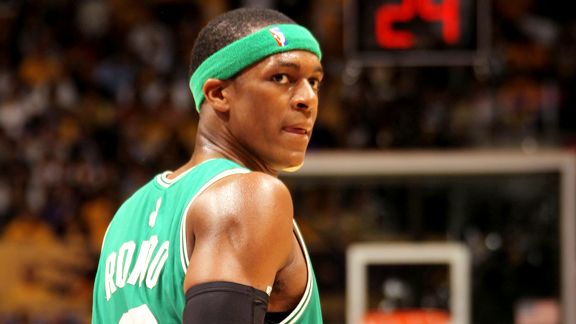 Rajon Rondo's first eight games of the 2013-14 season have been interesting to watch for many reasons. First, it was great to see that it only took five contests for him to play 30 minutes. Then, just one week later, he began his newest double-digit assist streak. Oh no! Not that again – don't worry about it. I am not going deep into that streak, except for the part that the next time Rondo plays, he will be in search of three consecutive games of at least 10 assists for the first time since December 2012.
In addition, with just two more assists, the eight-year veteran will become just the sixth Celtic to reach the 4,000-assist mark. When he gets to that milestone, he will be exactly 100 dimes away from tying Bill Russell for the fourth-most in franchise history. Next up on the list is another Celtics legend: Paul Pierce (4,305).
Coincidentally, the Celtics have been victorious in the two games in which Rondo has hit double figures in assists this season. The first of those two wins came on Super Bowl Sunday in the C's seven-point win over the Magic. Sunday was a fantastic day for Rondo: not only did he establish new season-highs in points, assists and steals, but he also accomplished something for the first time in his career. See what it is after the jump…
On Sunday, Rondo attempted at least four shots from inside the arc and did not miss a single one. He had never done that before in green. Moreover, if you take out his 3-point miss with 21 seconds remaining in that contest, he would have gone 9-of-10 from the field, which would have been his career-best field-goal percentage in a game (minimum three attempts).
However, the four-time all-star is turning the ball over at a high clip this season. Wednesday marked his seventh consecutive game with at least three turnovers, which marks one of the longest streaks of his career. I understand he is playing his first games in a long time and is acclimating himself with a new team, but this trend is something to keep an eye on as Rondo is on pace to have a new career-high in turnover rate this season.
What makes Celtics fans happy though is that his usage and rebounding percentages are also looking like they will be his best as an NBA player. That could mean more triple-doubles in the near future, but I am not sure it will mean more green victories. Including the playoffs, the Celtics have lost four of the last six games in which Rondo has triple-doubled after going 21-1 in the first 22 games of that kind.
It remains to be seen how Rondo's season will unfold, as there seems to be unlimited possibilities. With the Celtics gearing up for the final few months of the season, Rondo and his teammates will get some nice rest after playing three games in the next four days. I am hoping that Rondo remains a Celtic for at least the near future, especially because his value is still not even close to where it could be. There are many captivating Rondo storylines as we continue through this roller-coaster season, so let us enjoy the ride.
For more Celtics coverage and statistics, follow CelticsHub and Adam Lowenstein on Twitter: @CelticsHub and @StatsAdam
The following two tabs change content below.
Latest posts by Adam Lowenstein (see all)