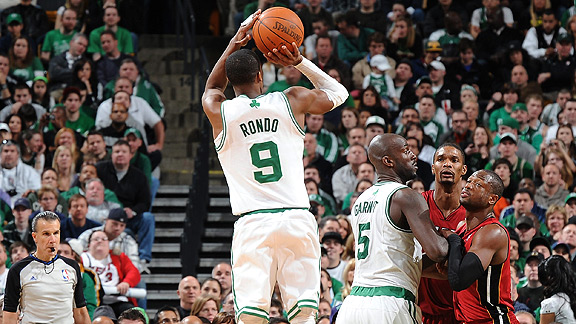 Rajon Rondo's numbers since returning have been considerably lower than his career averages, which is to be expected. But watching him play, it's evident that he either A) feels more comfortable taking jumpers, particularly from mid-range out of the pick-and-roll, or B) realizes that scoring is the best thing he can do for this offensively challenged team.
After Sunday's win against Orlando, Brad Stevens noted that the Magic were consistently going under screens which gave Rondo nice looks at the hoop.
"He made shots," Stevens said. "They went under the ball screens and almost dared him to make shots, and he has to make those. He's a very good pull-up shooter."
Orlando certainly did go under Boston's PnR's with Rondo, but I'm not certain they did so out of disrespect for Rondo's jumper as Stevens seems to be implying. Rather, they appeared to be picking their poison — apparently respecting Rondo's drive more than his shot. That burned them, and frankly, it seems like going over a screen against Rondo recovering from knee surgery might have been smarter than going below and surrendering a shot he made 50 percent of the time last year before his injury.
Either way, Victor Oladipo chose to go under the screen repeatedly against Rondo on Sunday. This is what happened.
The more things change, the more they stay the same — Rondo is clearly comfortable working with Brandon Bass, as he repeatedly bounced off Bass for pick-and-pops. But it's also worth noting how the Celtics used this particular set, because they would come back to it later. When Bass sets the screen…
…Jared Sullinger is down low, headed for the weak-side block.
This high-low spacing works nicely for three reasons. First, the pick-and-pop creates a conundrum for the Magic, who are forced to decide whether to go under or over the screen, as we mentioned before. That opens up the second conundrum, which is how to defend Brandon Bass' mid-range jumper (weird but true fact: Rajon Rondo's shot from 10-16 feet was nearly 4 percent more accurate than Bass' last season).
The third conundrum can also be seen in the screencap above. If Rondo decided to drive, he would be easily past Oladipo, and he probably could get by Glen Davis, who would have to rotate back to Bass. That would leave Nik Vucevic as the only defender able to stop him, and with Sullinger on the block, Rondo would have a great dump-off target.
Essentially, the Celtics have a lot of positive decisions to make when they run this action, and fortunately, the decision-maker is Rondo. As the season progresses (and if Brandon Bass stays a Celtic), don't be surprised if we see these types of plays develop. If Bass is traded, we might see Sullinger be the PnP big with Humphries (or even Faverani, who has fairly soft hands) be the dump-off target.
But there's a reason Stevens likes having Sullinger down on the block and Bass at the elbow, and you can see why when Boston was looking to ice the game. Notice that in both of the following clips, Boston runs the same high-low set.
Having set the Magic up with his early game success shooting from mid-range, Rondo was twice able to draw enough attention off the screen to create space for Bass late in the game. On the first play, it took multiple screens, but he eventually found Bass for the jumper.
Here's a screencap of Bass' pick to begin the second clip.
At this point, Orlando respects Rondo immensely, as you can see from O'Quinn's positioning. He is far enough over to contest Rondo well, but completely out of position to guard Bass. Essentially, the Magic are surrendering Bass' jumper out of respect for Rondo.
That's not the only thing being surrendered. Once again, the Celtics started with two bigs up top before sending Jared Sullinger down to the block. Having both bigs start up top gives Orlando less time to set themselves to defend Sully in the post, and as a result, you can see in the screencap that Jared Sullinger has inside position on Davis.
Rondo, however, doesn't make that play. Instead he elevates as if for a jumper, which completely fools Oladipo.
Oladipo is doubly a problem for Orlando here — not only does he get faked out, he unintentionally acts as a screen for Kyle O'Quinn, giving Bass time to stick a dagger in Orlando.
Rondo still isn't completely back in game form, but he's getting there. He was 9-for-11 overall Sunday, which obviously isn't sustainable, but if he can stay above 50 percent from 10-16 feet for the rest of the year, he's going to wreck even more havoc when his athleticism returns.
If you need something to look forward to in a down year, Rondo wrecking even more havoc might do it.
Follow Tom on Twitter: @Tom_NBA.
The following two tabs change content below.
Latest posts by Tom Westerholm (see all)