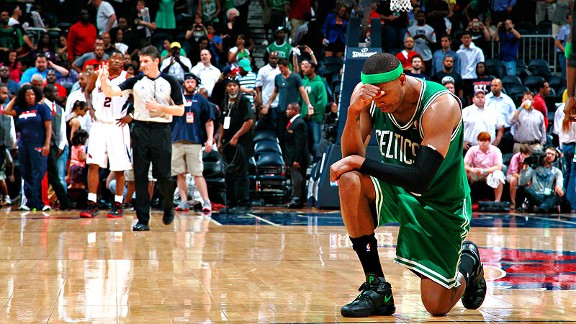 There is one Paul Pierce highlight that continues to pop into my head when I think back to the Truth's time in Boston. Back in the first round of the 2012 playoffs, the Celtics were in danger of going down 2-0 to the Atlanta Hawks. However, the Captain was not going to let that happen.
With Rajon Rondo suspended and Ray Allen sidelined, Pierce scored the first nine points for the Celtics that evening at Philips Arena as a part of his game-high 13 points in the first quarter. He scored more than half of the C's points in the first 12 minutes, as the teams were tied at 24 as the players headed back to their respective benches for the quarter break.
The Hawks proceeded to outscore the Celtics by a combined five points over the second and third quarters. In addition, Atlanta led by as many as 11 points, but the fourth quarter was Pierce's time to shine. See the story and video of what happened after the jump…
Pierce asserted himself right at the beginning of the quarter, as he scored the first bucket to get the score to 66-63. Some Avery Bradley and Kevin Garnett makes from the field and free-throw line brought the score to 70-70. Then, Pierce broke the tie with a five-footer.
As we moved past the halfway point of the fourth, this was the time when there were many crucial plays. First, Josh Smith sprained his knee, forcing him out for the rest of the game. With just under four minutes remaining, Pierce extended the lead for good. He first pushed the lead to four points and then hit a huge 3-pointer from 26 feet out on the next possession.
Then, the moment happened that was burned in memory forever. Pierce headed to line with 1:15 remaining, looking to extend the Celtics' five-point advantage. He sunk them both to give him 13 points in the fourth quarter, and then he Tebowed.
This marks the only time in Pierce's playoff career that he put up 30 points and grabbed 14 rebounds in the same game. The Celtics proceeded to close this one out as well as the next two home games before winning the series in six.
Coincidentally, Joe Johnson was the leading scorer for the Hawks that night, but as usual, the Truth outshined his former (and current) teammate.
For more Celtics coverage and statistics, follow CelticsHub and Adam Lowenstein on Twitter: @CelticsHub and @StatsAdam
The following two tabs change content below.
Latest posts by Adam Lowenstein (see all)