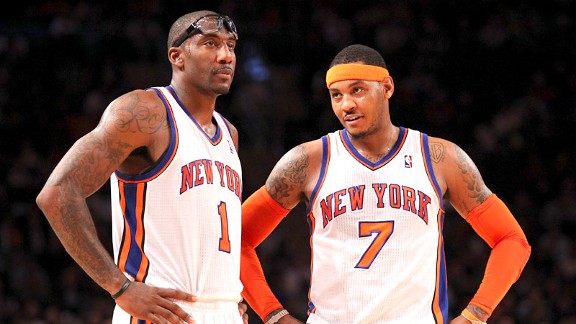 New York at Boston
7:30 P.M. ET
TD Garden
CSNNE
Offensive Efficiency:
Boston: 98.4 points/100 possessions (23rd)
New York: 100.2 points/100 possessions (T-19th)
Defensive Efficiency:
Boston: 100.4 points allowed/100 possessions (11th)
New York: 103.8 points allowed/100 possessions (T-25th)
Probable Knicks Starters:
Kyle Lowry Pablo Prigioni (PG), Iman Shumpert (SG), Carmelo Anthony (SF), Kenyon Martin (PF) & Andrea Bargnani (C)
View From The Opposing Bench: KnickerBlogger
Thumbnail: It is Friday the 13th at TD Garden, as the Celtics face the Knicks for the second time this week. However, this New York team looks a little different than the one that was blasted by the C's on Sunday at Madison Square Garden. Raymond Felton strained his left hamstring on Tuesday evening and will miss two to three weeks. Although the Knicks have been involved in trade rumors for Raptors starting point guard Kyle Lowry, he is not going to be in a Knicks uniform for Friday's game at TD Garden.
In addition, you might see more of Kenyon Martin and Amar'e Stoudemire than you did on Sunday. Martin did not play against the Celtics or in Cleveland, but he blocked four shots and grabbed seven rebounds for the orange and blue in the win over the Bulls on Wednesday. After missing last Friday's game and playing just above 20 minutes against the C's two days later, Stoudemire has almost 60 minutes of playing time combined in his last two contests. Don't look now, but he is shooting better than 70 percent, yes 70 PERCENT, in his last five games played.
The Celtics' season-long three-game home winning streak came to an end on Wednesday, but they get to face the third-worst team in league without its starting point guard on Friday. Over the next nine days, the men in green play four games, and they will all be played in Boston. Then, they head to Indiana and get the next five days off, yes FIVE DAYS OFF, during Christmas week. What a rarity that is for the Celtics and for a team that is leading a division 24 games into the season.
Prediction: For the first time since 1991, the Celtics defeat the Knicks twice within a week in the regular season.
Celtics 97, Knicks 91
For more Celtics coverage and statistics, follow CelticsHub and Adam Lowenstein on Twitter: @CelticsHub and @StatsAdam
The following two tabs change content below.
Latest posts by Adam Lowenstein (see all)