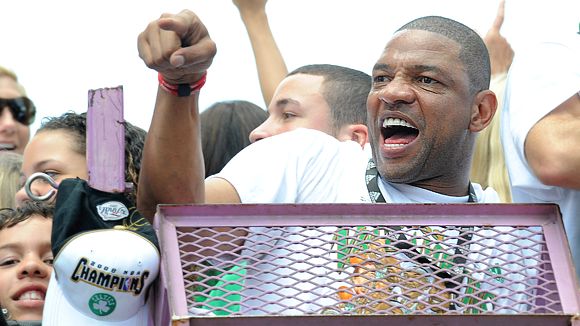 Los Angeles at Boston
7:30 P.M. ET
TD Garden
CSNNE
Offensive Efficiency:
Boston: 98.8 points/100 possessions (T-22nd)
Los Angeles: 105.1 points/100 possessions (5th)
Defensive Efficiency:
Boston: 100.5 points allowed/100 possessions (11th)
Los Angeles: 100.4 points allowed/100 possessions (10th)
Probable Clippers Starters:
Chris Paul (PG), Willie Green (SG), Jared Dudley (SF), Blake Griffin (PF) & DeAndre Jordan (C)
View From The Opposing Bench: ClipperBlog
Thumbnail: Hope you are ready for The Reunion: Part II. Just 24 hours after the Celtics tipped off in Brooklyn for their first regular season game against Paul Pierce and Kevin Garnett, they will do the same in Boston as the TD Garden hosts Doc Rivers and the Clippers. Oddly, these teams have more commonalities than were expected when the season began. Heading into Wednesday's contest, both own a 6-4 record in their last 10 games, and both lead their respective divisions by 1.5 games.
But how about this: the Celtics have move wins in December than the Clippers. For Los Angeles, this stop in Boston is the fifth one on the team's seven-state road trip. The Clippers' venture to the eastern part of the United States is surprisingly an arduous one because they are the only Western Conference team not named the Jazz or Kings that has an under .500 record against the Eastern Conference this season. How weird is it that the terrible, horrible, no good, very bad Eastern Conference is the Clippers' kryptonite?
Although the Clippers are a frustrating 4-5 against the Celtics' conference, they are 3-0 against the Atlantic Division, including Monday's victory in Philadelphia against a 76ers team without their starting point guard. In that game, the Clippers put up their fewest points and assists in a road win in 2013-14. On Tuesday, the Celtics tied their season-low in assists for a road contest. Brad Stevens' team is now 0-12 this season when registering fewer than 18 assists, so it is important for the Celtics to share the basketball in this one. However, that feat might be easy to accomplish against the Clippers: only once this season have the Clippers prevented their opponent from accumulating 18 assists.
Prediction: Definitely looking forward to that Doc tribute video as well as hopefully the standing ovation from the Garden crowd. And perhaps, we will get a Stephen Jackson sighting; it would be his seventh different uniform in which he will play against the Celtics in Boston.
Clippers 104, Celtics 99
For more Celtics coverage and statistics, follow CelticsHub and Adam Lowenstein on Twitter: @CelticsHub and @StatsAdam
The following two tabs change content below.
Latest posts by Adam Lowenstein (see all)