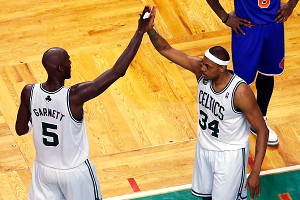 Boston at Brooklyn
7:30 P.M. ET
Barclays Center
CSNNE
Offensive Efficiency:
Boston: 98.6 points/100 possessions (23rd)
Brooklyn: 99.3 points/100 possessions (20th)
Defensive Efficiency:
Boston: 99.9 points allowed/100 possessions (9th)
Brooklyn: 107.0 points allowed/100 possessions (29th)
Probable Nets Starters:
Deron Williams (PG), Joe Johnson (SG), Paul Pierce (SF), Kevin Garnett (PF) & Brook Lopez (C)
View From The Opposing Bench: Brooklyn's Finest
Thumbnail: New York basketball has been full of losing streaks this season. On Sunday, the green made mincemeat of a Knicks team that recently had dropped nine games in a row. Current winning streaks practically tell the story of where the Celtics and Nets stand as of December 10, but not in the way most people thought heading into the season. Brooklyn is channeling its final days in New Jersey, as Jason Kidd's squad has now lost its last six games at home. The only team to lose more games in a row at home in 2013-14? You guessed it: the Knicks.
On the other hand, Boston owns the longest current winning streak in the NBA. You read that correctly. Entering Tuesday's contest, the Atlantic Division-leading Celtics are the only team in the league to have won their last three games. One of the main reasons that Brad Stevens has the Celtics in this position is Jared Sullinger. On Sunday, the big man did something that neither Paul Pierce nor Kevin Garnett ever did in a Celtics uniform. He posted a plus/minus of +43 in a game. I understand a single player's plus/minus in one contest is not always a reliable statistic, but you have to hand it to the second-year player out of Ohio State who shot 9-of-13 from the field at Madison Square Garden. It was by far Sullinger's most efficient shooting performance of his young career with double-digit shot attempts. Remember, he did all this in 27 minutes. Yeah, this kid is good.
Moving on to the player that was the first Eastern Conference Player of the Week for the men in green since Garnett in April 2012: Jordan Crawford. It was perfect timing for the flashy point guard to receive this honor because the Truth and the Big Ticket combined for each of the last five times a Celtics was named the Player of the Week. I am glad I highlighted Crawford in Sunday's preview because the game against the Knicks was arguably his best performance as an NBA player. Not only did he register a career-best plus/minus of +38, but he also sunk a career-high six 3-pointers. In addition, he scored 22 points in his third consecutive game, which is new career-long streak for him. Yeah, this kid is good, too (compliments to Mr. Stevens).
Prediction: Pierce, who is questionable for Tuesday's contest after breaking his hand fewer than two weeks ago, fights to get back onto the court and faces the Celtics for the first time in a regular-season game. With this being in Brooklyn, it does not feel the same as either of the reunions that will take place on December 11 with the Clippers and January 26 with the Nets at TD Garden. Nevertheless, even with Deron Williams returning after missing nine games, the Celtics win again.
Celtics 102, Nets 95
For more Celtics coverage and statistics, follow CelticsHub and Adam Lowenstein on Twitter: @CelticsHub and @StatsAdam
The following two tabs change content below.
Latest posts by Adam Lowenstein (see all)