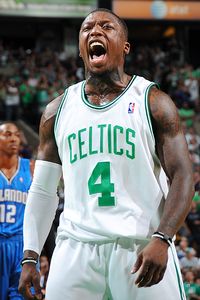 Denver at Boston
7:30 P.M. ET
TD Garden
ESPN/CSNNE
Offensive Efficiency:
Boston: 96.8 points/100 possessions (26th)
Denver: 104.8 points/100 possessions (T-7th)
Defensive Efficiency:
Boston: 100.5 points allowed/100 possessions (8th)
Denver: 101.8 points allowed/100 possessions (15th)
Probable Nuggets Starters:
Ty Lawson (PG), Randy Foye (SG), Wilson Chandler (SF), Kenneth Faried (PF) & J.J. Hickson (C)
View From The Opposing Bench: Roundball Mining Company
Thumbnail: Hey, look! A national televised game for the first-place Boston Celtics! What, really? Sounds good to me. Yes, the Celtics would be the fifth-best team in the Nuggets' Northwest Division, but I am sure that Brad Stevens does not mind being a part of an Atlantic Division that currently has 30 combined wins. By comparison, the two teams above the Nuggets in their division have totaled 29 wins.
After beginning the season 4-6, Denver reeled off seven consecutive wins before falling in Cleveland on Wednesday. The Nuggets are now in Boston for the fourth game of their six-game Eastern Conference road trip. Ty Lawson, who has played very well against the Celtics recently, had arguably his worst shooting performance of his career two days ago. Before Wednesday, Lawson had scored double-digit points in every game he had played this season. Then, his 1-of-13 shooting performance happened. Although he registered 11 assists in that game, Lawson's 7.7-percent shooting was the worst for any Nugget in a game since J.R. Smith on January 13, 2009 (minimum 10 attempts). At that time, Lawson was just starting his conference schedule in his final year at North Carolina.
Speaking of conferences, you may have noticed a slight disparity in the strength of the NBA's conferences this season. This is definitely reflected by how the Celtics and Nuggets have fared. The Celtics enter Friday with a 1-6 record against the Western Conference in 2013-14. That lone victory was a home win against the Trey Burke-less Utah Jazz. Even with Jazz winning three of the last five contests, Utah remains the worst team in the Western Conference. On the other hand, the Nuggets were 5-0 against the Eastern Conference this season before playing in Cleveland.
Prediction: The Celtics impress on ESPN and upset the Nuggets. Jordan Crawford, who is coming off scoring his most points in a game as a Celtic, channels his inner Rajon Rondo and shines in the national television spotlight. By the way, the Celtics' next ESPN game: January 26, 2014 vs. Brooklyn.
Celtics 99, Nuggets 96
For more Celtics coverage and statistics, follow CelticsHub and Adam Lowenstein on Twitter: @CelticsHub and @StatsAdam
The following two tabs change content below.
Latest posts by Adam Lowenstein (see all)