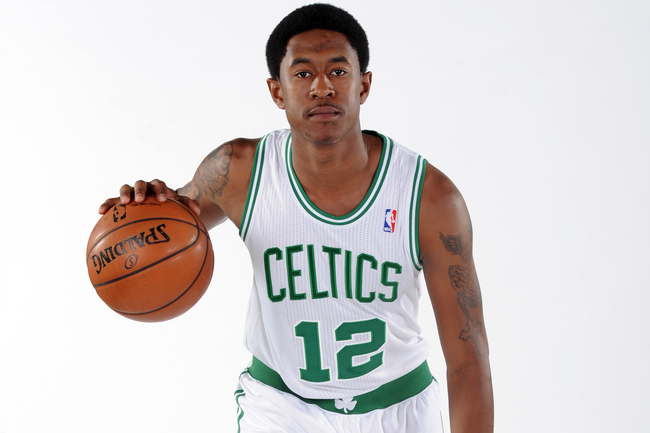 It's been a tough year for Marshon Brooks thus far — so tough, that at Boston's practice earlier this afternoon, a reporter asked him whether he or his camp had considered asking for a trade this season.
Brooks seemed to brush off the question.
"It's way too early for that," he said. "I trust Brad Stevens. He told me I'm going to get my opportunity, so I'm just waiting on my opportunity, honestly."
Brooks is certainly right that it's too early to be considering drastic decisions like requesting a trade, but the reporter isn't wrong for asking the question. In three NBA seasons, Brooks has seen his playing time drop from 29 minutes per game in 2011 to 12 in 2012 to six in 2013. He's seen a drop in his production as well: After averaging 15 points per 36 minutes in his first two years, he's down to 11 this year with an abysmal PER of 6.1. He's averaging career lows in just about every shooting metric (free throw percentage excepted), and in his minutes on the court, he hasn't looked comfortable.
"When you don't play for a while," Brooks said, "you want to do too much. You want to come in there and make an impression. So I'm just trying to come in there and play team ball, play solid and pick my spots."
There are certainly indicators that Brooks has been pressing while he's been on the floor. Although most of his pace-adjusted numbers are down this year, his field goal attempts are remaining steady. Brooks is a shooting guard, so he isn't expected to initiate the offense. But he is expected to be smart and pick his spots, as he said, and if he can't do that effectively, analytics-minded Brad Stevens isn't going to give him minutes.
"It's been challenging," Brooks admitted. "I just have to be professional and come to work every day and understand that I'm blessed. I have the opportunity to play in the NBA. When I get my opportunity, I'm going to try to make the most of it. Just do what I do."
Courtney Lee is back
If Brooks gets more minutes, one returning role player will probably get fewer. Courtney Lee said he is feeling better and plans to suit up Tuesday against Milwaukee.
"I'm feeling good," he told reporters at practice. "A lot better than the last couple days…It's up to coach if he puts me in or not, but I'm going to go out there and dress."
Lee's return continues to complicate the Celtics' backcourt, especially with Bradley's seemingly permanent (and merciful) move to the shooting guard with the starters. We haven't had any rumblings of a trade for Lee yet, but he is probably Boston's most mobile asset, as Brooks hasn't been given a chance to up his trade value and the Celtics probably value Bradley more than any potential trade partner.
Rajon Rondo is practicing; Kelly Olynyk is still out
Stevens was a bit cryptic when asked for an update on Rondo's status, saying that he was "practicing," but that his workload has been no more than it has been over the past couple weeks.
On Olynyk's ankle sprain, however, he was much clearer.
"That probably still might be a week, from what I can tell," Stevens said. "It was a significant sprain, so we'll be smart and give him appropriate time to come back."
There's no reason whatsoever to hurry Olynyk back, especially considering Boston's depth at power forward. If the Celtics plan to deal Kris Humphries at any point, this is as good a time as any to showcase his abilities while avoiding taking away Olynyk's minutes.
Follow Tom on Twitter: @Tom_NBA.
The following two tabs change content below.
Latest posts by Tom Westerholm (see all)