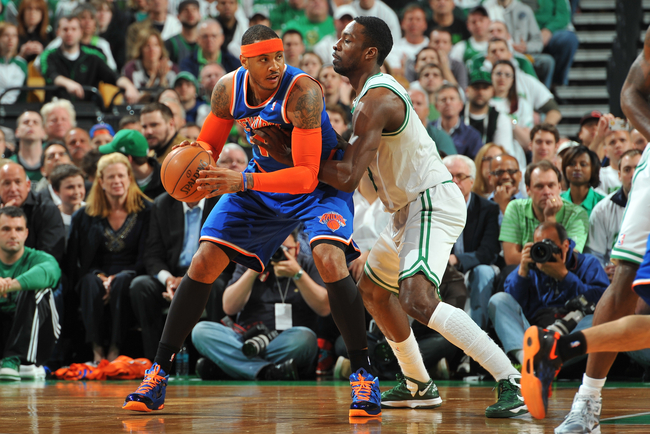 If it weren't for the existence of Rajon Rondo, Jeff Green would be the most polarizing Boston Celtic Danny Ainge ever acquired. Those who root for his success hold opinions less sturdy than drying clothes in the wind. Assessments come on a week to week, day to day, possession to possession schedule, but they come from a peaceful place.  At first, Green was "not Kendrick Perkins." Then things began to waffle back and forth a bit, and here's where we're at:
"Jeff Green will be an All-Star someday. I can't wait."
"Isn't he too inconsistent for that?"
"No way! He's so clutch!"
"I guess, but why can't he average 40 points a game? Remember that time he eviscerated the Miami Heat?"
"I agree, he's awful."
"Pretty much."
A lot of Green's criticisms are based on his tantalizing skill. Instead of looking at what he does, and what he doesn't do well, we evaluate what he could or should be, which is obviously unfair and inaccurate.
Many believe Green is probably capable of accomplishing a little more on the offensive end. But what if he isn't? What he is today is what he'll be forever, an adept—albeit one-dimensional—scorer who lacks court vision and an ability to make others better. Jeff Green is far from an All-Star, but he's nowhere near not being a quality NBA player, either. Have I lost you?
Let's get back on track with a simple question: how's Green doing defensively this year? He could be the security guard of his position. He has the body. He has the lateral quickness. Instead, he's not. And his shortcomings this season have been troubling on a number of levels.
It's possible nothing found in this entire article will be news to you. Green has never been a shut down defender in the same way he's never been a prolific offensive dynamo. So why the fuss? Let's eliminate expectations and vague perception altogether. Against the Minnesota Timberwolves, the most dangerous defense-to-offense team in basketball right now, you'll never guess what Green did one minute into the game. That's right, he was beat back on transition.
The Celtics miss a shot, and Jordan Crawford picks up Green's man, Corey Brewer, whose sole purpose as an NBA player is to leak out. Good job by him. As Green jogs up the court, dimly aware of his surroundings, Ricky Rubio speeds on by. Kevin Martin hits him with a lob pass, and Green is forced to commit a foul. Later on in that same contest we saw him defending Robbie Hummel, and the results were unspectacular.
Two things about this sequence are crappy. First, Green's effort fighting through a Dante Cunningham—or, apparently, The Incredible Hulk—screen is bad. (Guys don't feel like fighting through screens all the time, but there will be more examples to come, so don't think I'm nitpicking an isolated incident.) It's Minnesota's corner offense, so to prevent any action back door, Green is correct to give the unproven Hummel a little cushion. But his reaction and recovery are awful.
When Hummel misses the open shot, Green watches Minnesota retain possession with an offensive rebound, and completely loses track of his assignment. Untouched, Hummel waltzes down the the lane and attempts a dump off pass that goes out of bounds off Green's hand. Had he made the right decision and gone up for the shot, the play could just have easily ended with free-throw attempts or immediate points.
These two examples from Minnesota are basic effort plays. Nothing more. But Green's been subpar elsewhere too. I don't know if it's apart of their scheme, but Green will almost always switch on a pick-and-roll when his man is the ball-handler. I tend to doubt it for a few reasons, one being it creates match-up problems that compromise other areas of the floor.
Here we have Nicolas Batum and LaMarcus Aldridge about to run a side pick-and-roll. Jared Sullinger is defending Aldridge, and Green is on Batum.
Fast forward two seconds, and instead of "icing" Batum along the sideline, Green and Sullinger have opted to swap assignments. Sullinger isn't quite quick enough to corral ball-handlers in open space right now, but in this situation, with the sideline as his friend and Batum having the ball instead of Mo Williams or Damian Lillard, it's unclear why they didn't attempt to force the ball out of his hands.
Batum wisely tries to get the ball into Aldridge, who could probably hit 25 straight jumpers in any Celtics' eye if he felt like it, but Green prevents the entry pass by fronting. This forces Avery Bradley (hidden behind Robin Lopez in the picture above) to eventually drop down and help from the weak side.
Batum swings the ball to Wesley Matthews, who now has the step he needs on Bradley. He gets to the middle of the court, which is Code Red.
The ball is kicked back to Batum, who's now wide open for three. It took nearly the entire shot clock for Portland to get their look at the basket, but it all happened because Boston suffered a defensive breakdown at the beginning of the play. Why does Green get the blame? Again, this isn't an isolated incident. Teams put Green in pick-and-rolls as often as possible knowing he'll switch. They don't do it so much with Gerald Wallace, who scraps through screens and doesn't give his man an inch of breathing room; the dichotomy is telling.
Bass is on Aldridge and Green is once again covering Batum. The screen comes, and he looks like a fat cat trying to get off a hammock. Already out of position once he gets to the perimeter, Green falls for Batum's half-hearted pump fake. He drives left and creates a situation where once again the Celtics switch because Green was either a step slow or fell asleep. If you watch closely, it appears Bass thinks he's headed back to Aldridge, and that moment of hesitation could've easily led to an open baseline drive had Batum not briefly lost his handle.
It's plays like this where the Celtics are unsettled because of Green's pick-and-roll defense. It's hard to believe that's the type of execution Brad Stevens is asking for. Yet, no basketball player is always bad in one area, just like no basketball player is always good in another. There's contradictory evidence all throughout this flowing river of a sport. But after 12 games of up and down play from a player who's ultimately defined by his up and down play, the correctable defensive warts need to be taken care of.
(Just for fun. Sometimes Jeff Green doesn't care anymore. Presented without commentary):
Michael Pina is a writer, with bylines at Red94, CelticsHub, The Classical, Bleacher Report, Sports On Earth, and Boston Magazine. Follow him here.
The following two tabs change content below.
Latest posts by Michael Pina (see all)