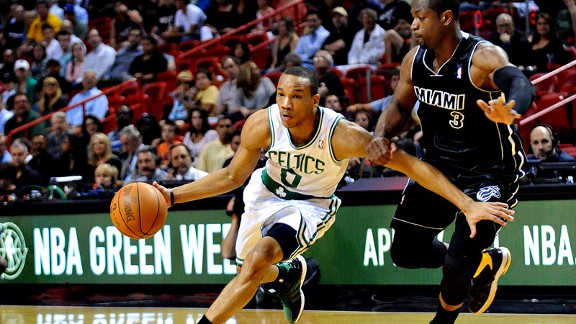 Boston at Miami
7:30 P.M. ET
AmericanAirlines Arena
CSNNE
Offensive Efficiency:
Boston: 92.7 points/100 possessions (28th)
Miami: 108.0 points/100 possessions (2nd)
Defensive Efficiency:
Boston: 96.7 points allowed/100 possessions (8th)
Miami: 103.0 points allowed/100 possessions (21st)
Probable Heat Starters:
Mario Chalmers (PG), Dwyane Wade (SG), LeBron James (SF), Udonis Haslem (PF) & Chris Bosh (C)
View From The Opposing Bench: Heat Index
Thumbnail: The early November NBA schedule of 2013-14 has an interesting wrinkle to it. The Magic faced the Clippers on Wednesday, and they hosted the Celtics two days later. Coincidentally, the Heat faced the Clippers on Thursday, and they host the Celtics two days later. There is a bit of irony in play here. Not only the obvious connection between the Celtics and Doc Rivers, but also the fact that Boston took on the two Florida basketball teams in a combined five playoff series in the last five years.
Another peculiarity of the Celtics' early-season schedule is that they are playing in their fifth different city in seven days. After the men in green began the season 0-4, it is impressive that they have already grabbed two wins during this tough week of games. Getting that third victory will be an arduous journey for a Celtics squad that looked very balanced on Friday in Orlando, as six different players scored in double figures. That group does not even include Kelly Olynyk who hit an important 12-foot jumper near the end of the game after Brad Stevens called a 20-second timeout. A score out a timeout: that does make Celtics fans feel pretty, pretty, pretty good.
Both the NBA rookie forward and head coach get their first taste of the Heat on Saturday. Miami heads into this contest with three straight victories and a perfect 3-0 record at home this season. Coming off a day of rest, Dwyane Wade took the reins from LeBron James and put up 29 points, seven assists, three steals and a block against the Clippers. He became the first player this season to reach those plateaus and got another day of rest between Thursday and this game against the Celtics. During the 2012-13 season and over his entire career, Wade has had more success on one day off than any other number of days of rest.
Prediction: Avery Bradley, who reached 14 points and eight rebounds in the same game for the first time in his career on Friday, will have his hands full with Wade in this one. Bradley succeeds, but the Celtics are not able to take down the two-time defending champions.
Heat 103, Celtics 94
For more Celtics coverage and pertinent statistics, follow CelticsHub and Adam Lowenstein on Twitter: @CelticsHub and @StatsAdam
The following two tabs change content below.
Latest posts by Adam Lowenstein (see all)