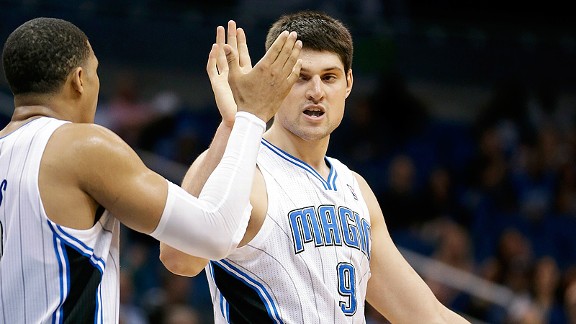 Boston at Orlando
7:00 P.M. ET
Amway Center
CSNNE
Offensive Efficiency:
Boston: 92.8 points/100 possessions (28th)
Orlando: 100.9 points/100 possessions (11th)
Defensive Efficiency:
Boston: 98.2 points allowed/100 possessions (10th)
Orlando: 94.5 points allowed/100 possessions (T-3rd)
Probable Magic Starters:
Jameer Nelson (PG), Arron Afflalo (SG), Maurice Harkless (SF), Jason Maxiell (PF) & Nikola Vucevic (C)
View From The Opposing Bench: Magic Basketball
Thumbnail: The men in green left Boston with their first victory of the season, and they have some nice company in that category. The Bulls and Knicks have just one win each as well. Of course, I know it is early, but how much longer will we be able to say that the Celtics are in the same jurisdiction as those two teams?
Unfortunately, the Beantown and Windy City basketball teams have another number in common. The Celtics and Bulls are the two worst fourth-quarter teams this season. While Chicago owns a -5.2 margin per final quarter, Boston is at a whopping -11! You read that correctly: the Celtics are being outscored by a combined 55 points in their 2013-14 fourth quarters.
They now are in Florida for back-to-back games, the first of which is against a team that outscored Doc Rivers and the Clippers by 10 points over the final 12 minutes a couple days ago. With that 98-90 victory at the Amway Center, Orlando brings a perfect 3-0 home record into this game with the Celtics.
The main reason for the Magic's impressive win against one of the league's best teams was Nikola Vucevic, who got the "Whoa Boy!" fantasy line of the night on the Starters for his 30 points and 21 rebounds. In addition, Vucevic has averaged 14.5 points, 12.8 rebounds and 1.5 blocks per game in his four career games against the Celtics in which he has accumulated at least 20 minutes played.
Prediction: The Celtics will be seeing a lot of the Magic over the next four days, so it will be important to contain the center from Montenegro. Although Boston has won the last eight meetings with Orlando, I do not think they can make it nine in a row.
Magic 101, Celtics 94
For more Celtics coverage and pertinent statistics, follow CelticsHub and Adam Lowenstein on Twitter: @CelticsHub and @StatsAdam
The following two tabs change content below.
Latest posts by Adam Lowenstein (see all)