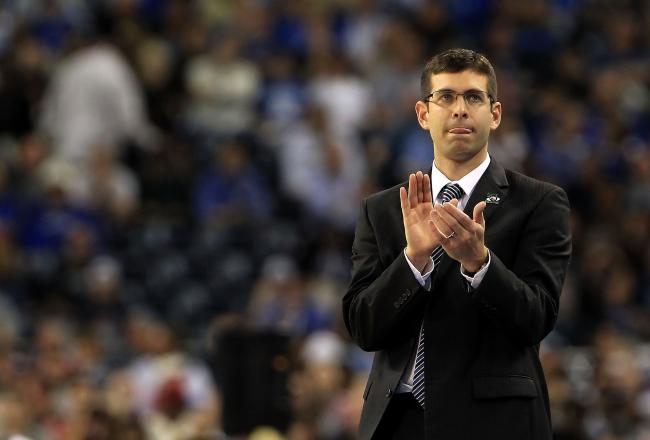 One of the more iconic images of the past five years for the Celtics has been Kevin Garnett pounding his head against the basket support while tying his shorts, gearing himself up for an intense game.
Few human beings can match Garnett's intensity on the basketball floor because, frankly, few people live their lives as though they were trying to save a loved one from a bear attack. Fans loved Garnett for his unflinching, unchanging attitude, even as it alienated him (and, by proxy, the rest of the team) from the rest of the league.
Things are different now, as we knew they would be. Brad Stevens is intense, and we see that in his preparation and in his devotion to basketball. His intensity, however, not only doesn't match Garnett's eye-popping obscenity-heavy brand, but also intentionally avoids it.
Baxter Holmes, in an excellent feature this morning, highlighted one of Stevens' more famous moments of calm. His Butler team had just stolen the ball and won in the final seconds against 8th-ranked and highly favored Gonzaga. But instead of celebrating wildly with his team, Stevens remained expressionless and went to shake the hand of Gonzaga coach Mark Few.
But whether or not that shot went in, Cannon said, Stevens's next step, no matter what, was to shake Few's hand. And, even then, he's cautious about celebrating too much. Why?

"If we hit a shot and Brad goes crazy, the players could take that as winning is the only thing that matters, that if we don't win, everything we're doing is wrong," Cannon said.

"He definitely takes into account how every action will affect the players, even if it's innocuous."
We knew that Stevens is detail-oriented because we've heard the phrase repeated over and over again during this offseason. He cares about the process, and this year is all about process, etc etc. But this is a pretty impressive reminder that he is a basketball thinker — he not only wants his teams to win, he also wants them to recognize that winning isn't the only thing. That's an important message, especially for a squad like the 2013-14 Celtics.
It's probably just as well that Kevin Garnett and Brad Stevens aren't on the same team, although that dynamic would have been fascinating enough to warrant a Ken Burns documentary. Watching Stevens adjust his entire personality around the enigma that is KG would have made for a very compelling season.
But it's probably best things played out as they did. Garnett is still intense in Brooklyn. Boston (presumably) sheds its label as a hated franchise. And Brad Stevens, apparently, will watch everything unfold unperturbed.
Follow Tom on Twitter: @Tom_NBA.
The following two tabs change content below.
Latest posts by Tom Westerholm (see all)