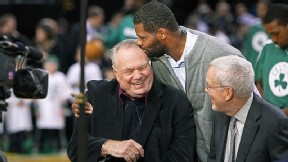 Milwaukee at Boston
7:30 P.M. ET
TD Garden
CSNNE
Offensive Efficiency:
Boston: 75.2 points/100 possessions (29th)
Milwaukee: 67.9 points/100 possessions (30th)
Defensive Efficiency:
Boston: 82.2 points allowed/100 possessions (10th)
Milwaukee: 77.3 points allowed/100 possessions (5th)
Probable Bucks Starters:
Gary Neal (PG), O.J. Mayo (SG), Caron Butler (SF), Ersan Ilyasova (PF) & Larry Sanders (C)
View From The Opposing Bench: Bucksketball
Thumbnail: We have finally come to the Celtics home opener, the first home game without Paul Pierce on the roster since April 17, 1998. TD Garden was known as the FleetCenter at that time, and Boston hosted the Cavaliers that night with Antoine Walker, Ron Mercer, Walter McCarty, Dana Barros and Zan Tabak starting. Yes, that Zan Tabak, and you can see McCarty tonight at the game sitting on the bench once again. This time around, he is in a suit.
Now that the Celtics and Bucks are one game into the 2013-14 season, they own the two lowest offensive efficiencies in the league. That sure makes it an easy sell for basketball fans to watch this Friday night showdown. In addition, both teams were down by double digits on the road on Wednesday, but each made an impressive second-half run that fell just short.
The Celtics were without Jared Sullinger after the team suspended him for his off-court altercation, so his rebounding should help Boston after giving up 19 offensive rebounds to a Raptors team that accomplished that feat only four times last season. Toronto also outrebounded Boston by 15 on Wednesday. The Celtics cannot give 20 extra field goal attempts to opponents if they want to win many ballgames this season.
However, one area that the Bucks will help the Celtics is with their injuries: Milwaukee will be without its fair share of players on Friday. Not only are Carlos Delfino and Ekpe Udoh inactive for a while, but starting point guard Brandon Knight and his backup Luke Ridnour are also both out. With Gary Neal and rookie Nate Wolters, who was selected 38th overall, manning the point guard position for the Bucks, the Celtics should take advantage.
Prediction: After Milwaukee swept the two meetings at TD Garden last season, Boston gets coach Stevens NBA win No. 1 on Friday.
Celtics 96, Bucks 93
For more Celtics coverage and pertinent statistics, follow CelticsHub and Adam Lowenstein on Twitter: @CelticsHub and @StatsAdam
The following two tabs change content below.
Latest posts by Adam Lowenstein (see all)