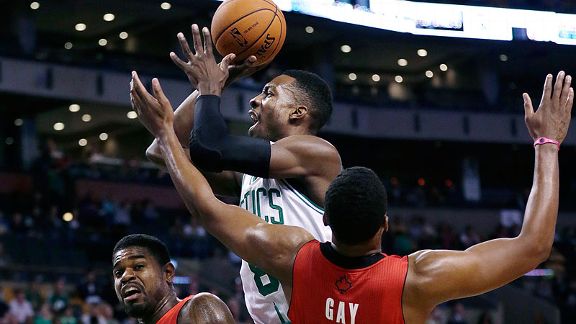 Boston at Toronto
7:00 P.M. ET
Air Canada Centre
CSNNE
2012-13 Offensive Efficiency:
Boston: 101.1 points/100 possessions (20th)
Toronto: 102.9 points/100 possessions (14th)
2012-13 Defensive Efficiency:
Boston: 100.4 points allowed/100 possessions (6th)
Toronto: 104.7 points allowed/100 possessions (22nd)
Probable Raptors Starters:
Kyle Lowry (PG), DeMar DeRozan (SG), Rudy Gay (SF), Amir Johnson (PF) & Jonas Valanciunas (C)
View From The Opposing Bench: Raptors Republic
Thumbnail: And so it begins again. The Celtics begin the 2013-14 season where they played the final game of the last regular season: the Air Canada Centre. With Boston kicking off the NBA's 68th year of operation in Toronto, the Celtics will have finished one regular season and began the next one at the same road venue for the first time in franchise history.
Although the Raptors made some changes to their roster in the offseason, their starting lineup will most likely be the exact same as it was on the final night of last season. Obviously, the Celtics will not bring last year's starting five to the opener, but there sure will be a lot to watch for in this contest.
The official start of the Brad Stevens era will be on display Wednesday, as he opposes a man on the other bench with almost two decades of NBA coaching experience. Raptors coach Dwane Casey enters his third season with the Canadian basketball franchise after being an assistant for the 2011 champion Mavericks.
Two Celtics have spent some time above the border: forwards Kelly Olynyk and Kris Humphries. Olynyk was born in Toronto and then moved to British Columbia while he was in middle school. On the other hand, Humphries was a Raptor for three seasons. Since being traded in 2009, Hump has had some real success against his former team.
In the four games that he has played at least 35 minutes versus the Raptors, he has averaged 15 points, 17.8 rebounds and 6.5 offensive rebounds per game in leading his teams to a 4-0 record with a margin of victory of 10 points per game. Celtics fans hope they can see this trend continue.
Prediction: Humphries steps up, but the Celtics cannot overcome the absence of Jared Sullinger.
Raptors 97, Celtics 92
For more Celtics coverage and pertinent statistics, follow CelticsHub and Stats Adam Lowenstein on Twitter: @CelticsHub and @StatsAdam
The following two tabs change content below.
Latest posts by Adam Lowenstein (see all)