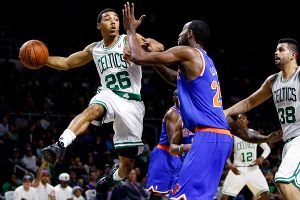 In anticipation of the Celtics' second consecutive preseason contest in Canada, here is a notebook of Celtics news and notes.
UPDATES ON PRESSEY AND HUMPHRIES
Sunday night's game between the Celtics and Timberwolves will take place at the Bell Centre, the stadium that holds 41 regular-season games a year for the Montreal Canadiens. Just like all teams, Boston is dealing with some injuries with opening night right around the corner. In addition to Rajon Rondo and Keith Bogans who will continue to be re-evaluated, we have Phil Pressey and Kris Humphries hurting. After rolling his left ankle in the fourth quarter of Wednesday evening's game in Toronto, Pressey will be a game-time decision:
Phil Pressey (sprained ankle) practiced today but is questionable for Sunday vs. #timberwolves

— gary washburn (@GwashNBAGlobe) October 19, 2013
There is no rush to get Pressey into this game. However, if he is not ready to play Wednesday in the preseason finale against the Nets, he may not be able to get higher than third on the depth chart at point guard. On the other hand, after missing the previous game with a sore right foot, Humphries should be ready for action Sunday:
#Celtics forward Kris Humphries taking extra shots after practice. Brad Stevens says he's likely to play in Montreal Sunday.

— Scott Souza (@scott_souza) October 18, 2013
PIERCE AND GARNETT OFFICIALLY MISSING THE PRESEASON GAME IN BOSTON
In absolutely unsurprising news: on Saturday, Jason Kidd made it clear that the first time the Truth and the Big Ticket will be at TD Garden will be January 26, 2014:
Jason Kidd confirms both Pierce and Garnett won't be playing in Boston.

— Tim Bontemps (@TimBontemps) October 19, 2013
When the Celtics and Nets tip off in Boston in the regular season, it will be near the beginning of the second half of the season. It will be interesting to see where these two teams are in the standings at that point, but not much of that will matter that night, as two of the most beloved Celtics in franchise history will be honored.
GERALD WALLACE, THE OPTIMIST
One of the players acquired in the blockbuster trade was Gerald Wallace, who has been one of the best Celtics this preseason. While he came to Boston with a heavy contract, he came with a lot of confidence as well. The Boston Herald's Mark Murphy explains:
Gerald Wallace knows all about how teams with low expectations can shock opponents further up the pecking order. He once played on a couple of teams in Charlotte that gave the Big Three Celtics fits.
Wallace has experienced tons of NBA basketball as he enters his 13th season in the league. With more than 700 professional games under his belt, he knows how to lead a team:
And the veteran forward sees no reason why these rebuilding Celtics can't have a similar impact.

"We know nobody is picking us to win a championship or make the playoffs," he said. "Our thing is to continue to get better. We're like a sleeper team. We're that team that everyone is looking at one their schedule, thinking, We can get a win (there), we can get some rest. We're going to catch a lot of teams off guard, and all we have to do is come out and give our effort. At the end of the season we'll see how we acquitted ourselves."
Crash, who has displayed poise on and off the floor, is great to have for this basketball team. I did not expect to utter that phrase about a Celtic this early in 2013-14, but Wallace has done almost everything asked of him as a leader. His offensive production may waver from game to game, but his hustle will not.
THE DOC IS IN THE HOUSE, AND HE IS MAKING CHANGES TO STAPLES
I was intrigued when I was directed to a Los Angeles Times article this weekend about Doc Rivers and what he is doing with the Lakers' championship banners and retired jerseys in Staples Center:
Clippers Coach Doc Rivers had the Lakers' championship banners covered and had his players' banners draped over them instead at Staples Center.

Rivers said it will be done whenever it's the Clippers' home game in the arena they share with the Lakers.
Doc is ready to make his Clippers team into a 2014 championship contender one step at a time. Before the last few years, this franchise was the pushover of Los Angeles, so the head coach is making sure the Clippers are a mainstay while he is in town:
The Lakers have 12 championship banners — Minneapolis has its five titles on one banner — and 10 retired jerseys, including Chick Hearn's microphone retired jersey.

"Well, I didn't look at it as the banner thing," Rivers maintained. "I just look at it as putting our guys up."

Rivers had the banners of Jamal Crawford, Blake Griffin, J.J. Redick, DeAndre Jordan, Jared Dudley, Chris Paul and Matt Barnes all put up on the wall.
From a Celtics fan's point of view, it is a good look for the Lakers' accomplishments to be covered up for more than 40 contests per season.
"Listen, I think this is our arena when we play," Rivers said. "So I just thought it would be good that we show our guys. No disrespect to them. But when we play, it's the Clippers' arena as far as I know."
I guess Doc is trying to play both sides here, but he does not really have to do that. The Clippers can stomp the Lakers into the ground if they want, so why not let your actions speak louder than your words? The man who won the 2008 Finals against the Lakers means business.
For more Celtics coverage and pertinent statistics, follow CelticsHub and Adam Lowenstein on Twitter: @CelticsHub and @StatsAdam
The following two tabs change content below.
Latest posts by Adam Lowenstein (see all)