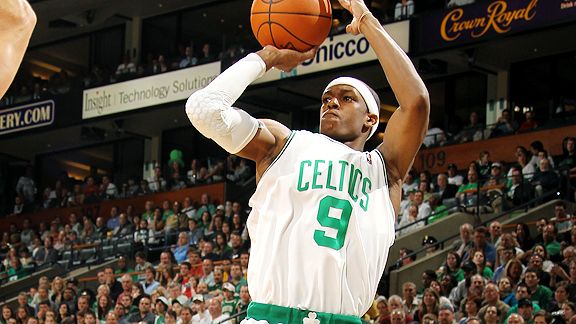 Kirk Goldsberry is a contributing writer for Grantland.com, an in-depth analyst of NBA statistics and considerably smarter than you and me. It was Goldsberry who popularized the shiny colorful shot charts, complete with accessible statistics, which show where players are most effective on the floor and exactly how far above or below league average from that area each player is.
Recently, Goldsberry posted a pair of articles on Grantland outlining the concept of "Shotscore," a fascinating attempt to quantify who the best and worst shooters in the NBA are. You should go read them as soon as you can
Rajon Rondo showed up in Goldsberry's article about the worst shooters in the NBA. Fortunately, Goldsberry's analysis wasn't quite what we've come to expect.
Even though we love to blast Rajon Rondo because "he can't shoot," there are a few point guards more deserving of that rep, prominent floor generals who actually fail to create points at above-average rates, from both the inside and the outside. Rondo, believe it or not, can actually makes shots at rates above league averages. In fact, in the last few seasons, he has made his elbow jumper at elite rates, partly because he's left open and partly because he is an improving shooter.
Rajon Rondo has been accused for years of being a bad shooter, and that was a fair accusation for a while. But last season, although Rondo's 3-point stats were bad, his stats from 16-23 feet were excellent at 3.7 attempts per game. Rondo made 48.0% of his jumpers from that range, per HoopData.com, which is, as Goldsberry said, an elite rate and hopefully indicative of continued improvement. This isn't a question of opinion or analysis, it's simply a fact: Rondo took a decent amount of mid-range jumpers and he hit a very high percentage of them. Whether or not Rondo becomes an above-average shooter overall, he made an excellent percentage of his long 2-pointers last season.
Goldsberry didn't provide a chart for Rondo in the Grantland article, perhaps because he was dedicating his space to truly poor shooters and only mentioned Rondo in passing. But for Celtics fans who have long been screaming that Rondo actually DOES have a jumpshot, drowned out by the many (many many many) people who believe otherwise, Goldsberry's analysis was a welcome reprieve.
Yeah SCIENCE!
Follow Tom on Twitter: @Tom_NBA.
The following two tabs change content below.
Latest posts by Tom Westerholm (see all)