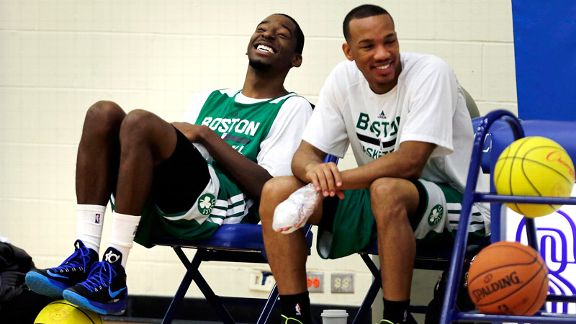 During the offseason, it's easy to give into the temptation to read too far into everything every player says or does a little bit. Now that we are approaching the preseason, new coach Brad Stevens wants everyone to know that.
Not that his admonitions will stop us, but I guess it was worth a shot.
ESPN Boston's Chris Forsberg has the full quote, as well as the lineups Boston has been using in 5-on-5 scrimmages thus far.
"I would say it's more, we're just looking — 'Hey, this combination might be something that we're more interested in,' [or,] 'This bench combination might be something that we're interested in' First unit/second unit. The one thing I'll probably try to do is put some guys together that we think may fit together better. Whether that means they end up starting or they end up coming of the bench, I think that's to be determined."

[…]

Green Team: Avery Bradley, Jordan Crawford, Jeff Green, Brandon Bass, Kris Humphries (subs: Vitor Faverani, Keith Bogans, Chris Babb)

White Team: Phil Pressey, Courtney Lee, Gerald Wallace, Kelly Olynyk, Jared Sullinger (subs: MarShon Brooks, Damen Bell-Holter, DeShawn Sims, Kammron Taylor)
If Stephens is using these particular combinations in the preseason, there are certainly some interesting implications. Arguably the most intriguing duo is Bradley/Crawford. Bradley playing point last season was an unmitigated disaster, but he certainly has the tools to defend the position, so if Stevens has an idea how to improve Bradley's offensive game, we can suspend our judgment until we see it on the court.
The white team features Kelly Olynyk and Jared Sullinger, a potential duo Danny Ainge and I broke down a couple of weeks ago. It will be very interesting to see how they stretch the floor, and whether that spacing opens things up a little bit for Jared Sullinger to play more with his back to the basket. In his post, Forsberg said Olynyk and Sullinger provided some spark offensively as teams were struggling to score late in a scrimmage in today's (Sunday) practice.
Other than that, it will be interesting to see how far into the rotation Pressey plays himself, as well as the Jordan Crawford/Courtney Lee/Marshon Brooks battle for the shooting guard slot if Bradley is playing point. If the Courtney Lee Boston expected to get last season shows up, he should secure the starting spot easily. If he plays like the 2012-13 version of himself, we may very well see Bradley/Crawford as the starting guards on *gulp* Opening Night.
Jordan Crawford is actually a potential starting guard for the Boston Celtics in 2013. The rebuild has arrived, and it looks a little rough.
Follow Tom on Twitter: @Tom_NBA.
The following two tabs change content below.
Latest posts by Tom Westerholm (see all)