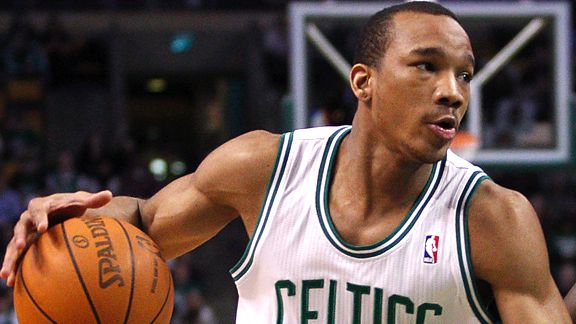 This notebook of Celtics news and notes looks into an article about Brad Stevens' confidence in Avery Bradley as well as Marc Stein's first ESPN NBA power rankings for the 2013-14 season. In addition, Sean Grande and Cedric Maxwell will be heard on a different radio station.
STEVENS: BRADLEY'S "ELITE ABILITY"
Although there were rumblings that rookie Phil Pressey would fill in for Rajon Rondo as the Celtics starting point guard, coach Stevens has other ideas, courtesy of the Boston Herald's Tom Layman:
Stevens said Avery Bradley may indeed see the bulk of the point guard duties until Rondo finds his way back from offseason knee surgery.

"I don't think there is any doubt that Avery has elite ability in a lot of ways as a point guard," Stevens said at TD Garden yesterday morning, where he was a guest at the breakfast to promote November's Coaches vs. Cancer college basketball tripleheader. "He's an elite defender at the position. He's an elite athlete at the point guard position. I think he's a guy that's gotten better. I think he's a guy with more confidence, and I think he's excited about the challenge if Rajon is out."
The 2012-13 season was a difficult one for Bradley because of a combination of factors. His shoulder surgeries, Rondo's ACL surgery and the inconsistent play from Celtics guards last season all affected Bradley's number of games played, time on the court and positions in the depth chart. In fact, he has not experienced a full regular season in his three-year professional career. After getting into only 31 contests in his rookie year, Bradley played in 64 of the 66 games in the lockout-shortened season. However, it seems that no one can convince Stevens that Bradley is anything but "elite:"
"I can understand when people say he struggled because of the numbers (9.2 ppg, 40.2 percent from floor), but you can't measure the numbers on the other end of the floor quite as well," said Stevens. "He can impact a game like very, very few people in the NBA. I think 'struggles' is really a subjective term.

"As I've watched it, I didn't think the struggles were as bad as they were made out to be. The other thing is he did that midstream. He had to make that adjustment within a system already created. Maybe we do things that fit him a bit better early that you can tweak when Rajon comes back. You know, Bradley is still going to play. He's still going to play a lot. He's going to play off the ball and with the ball.
More numbers that Stevens might refuse to consider are a 2.1/1.4 assist to turnover ratio for the Texas product last season and a 1.4/1.1 ratio for his career. Even considering that Bradley did not distribute the ball very much when previous trying out the point guard duties in 2013 (2.4 assists per game in the 38 regular season games played after Rondo's injury), Stevens wants more reps for him at the position:
"Our best-case scenario is he becomes the best point guard he can possibly be. Even when Rajon is back he's not going to play 48 minutes."
Stevens is entering a new situation in which he has almost a clean slate, which means that there are numerous possibilities for him at most of the positions. The options at the point guard position though are limited with Rondo sidelined. Stevens' hands might be somewhat tied here with choosing the primary ballhandler because his choices are just Bradley, Pressey and maybe a little of Jordan Crawford. Most people would side with the coach on his decision here.
TRAINING CAMP POWER RANKINGS: Wow, 27th. That stings a little.

On Friday, Marc Stein of ESPN released his first set of power rankings for the upcoming season. Well, at least the Celtics are not projected to finish last in the division:
After reading Stein's quick synopsis of the Celtics, I am not sure if Bill Simmons will want him to be on his podcast anytime soon. I am surprised that Stein goes directly at trading Rondo. If the Celtics deal their star point guard, it will not happen for at least a few months. I do not see it happening anytime soon, or even at all. It just does not seem that the Celtics will get the right value, which is a potential franchise player, in return for Rondo this season.
With regard to Boston being put at No. 27 overall, I am a little surprised it is that low. I guess he is weighing the Rondo injury heavily for the Celtics' prospects this season. Be sure to comment below on what you think of this ranking.
MOVING UP THE RADIO DIAL
With all of the commotion this past offseason, the Celtics made another change: the radio station where you hear their broadcasts. Just about a month after the Celtics and WEEI could not make a deal, it was announced that the green will join the New England Patriots and Boston Bruins on 98.5 The Sports Hub. With the crowded schedule this fall, you will also find some Celtics games on sister station Boston's Classic Rock 100.7 WZLX.
For almost every game of the New Big 3 era, I tuned into Sean Grande and Cedric Maxwell calling the games on WEEI. No matter what station they broadcast on, I will continue to listen to them because Grande and Max enhance the experience of the game. Their cohesion on air is palpable, as they have been bantering together for well over 1,000 games. Grande's witty, descriptive and statistical play-by-play and Max's experience as a longtime Celtic and two-time champion make every game a must listen.
You can look forward to their informative pregame, halftime and postgame interviews with coaches, players, Celtics management and media members. It will be interesting to see how the pregame and postgame shows will differ on the new station, but I never want Grande and Max to change. I am looking forward to yet another season with them bringing Celtics basketball to the masses.
For more Celtics coverage and pertinent statistics, follow CelticsHub and Adam Lowenstein on Twitter: @CelticsHub and @StatsAdam
The following two tabs change content below.
Latest posts by Adam Lowenstein (see all)