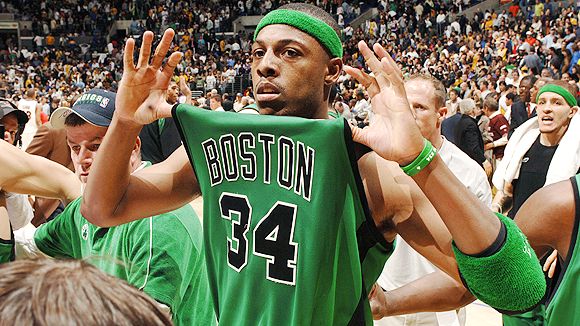 This notebook of Celtics news and notes takes a look at Gary Washburn's Sunday basketball notes in the Boston Globe. One section of this piece delves into how important the city of Boston is to 15-year NBA veteran Paul Pierce.
THE TRUTH'S FUTURE IN BOSTON
While the Celtics' former captain may never again be playing basketball in green, he spoke about how his post-NBA plans could be in Boston:
Paul Pierce said it's been difficult to say goodbye to Boston after 15 years, and as he approaches his first Nets' training camp — along with Kevin Garnett — the past few months have allowed him to reflect.

Pierce said he wants to be a fixture in Boston following his playing days, not just showing up for his retirement ceremony and heading to Malibu, Calif., the next morning. Pierce said he wants to establish something substantial in Boston, having grown attached to the city despite growing up in Inglewood, Calif., as a Lakers fan.
After all the years that the Celtics faithful were able to cheer on their superstar to new heights, Boston would be glad to have its 2008 Finals MVP back in town:
"Ultimately, what I would like to do is have a business in Boston," he said. "Maybe like a sports bar. I would love to do something like that here. None of the former Celtic great players have come and done that. I thought about it, and why hasn't anyone come and opened up a nice restaurant? You see the Don Shula restaurant, the Michael Jordan restaurant, and Magic [Johnson] got the theaters in LA. Why nobody here? All this history, all these championships and love, why has nobody done that?

"I am going to still have relationships here. I'm always going to come to this city. Every year, when I'm done, I'm going to have a reason to come here."
Walking into "Bar 34," or whatever name Pierce would choose for his establishment, would be a fantastic experience for any Celtics fan. I envision a bar and grille with green memorabilia plastered all over the walls where he would have watch parties for every game. On the other hand, there is also a chance Pierce could work for the Celtics organization:
"Who knows? I may be working for Wyc Grousbeck or Danny Ainge," he said. "A lot of players don't understand it. I've always understood it. And [other players] let their pride and ego get in the way. I've made a lot of money here, I've built relationships, won a championship here, I thank y'all for everything y'all gave me. How can I be mad for everything they've given me. I'm thankful."
It is surprising that Pierce is contemplating his future only a couple weeks before the beginning of the preseason, but his determination to continue his connection with Boston is admirable. His career as a basketball player with the Celtics might have ended with him being traded to Brooklyn, but his strong relationship with the city of the team that drafted him will never die.
For more Celtics coverage and pertinent statistics, follow CelticsHub and Adam Lowenstein on Twitter: @CelticsHub and @StatsAdam
The following two tabs change content below.
Latest posts by Adam Lowenstein (see all)