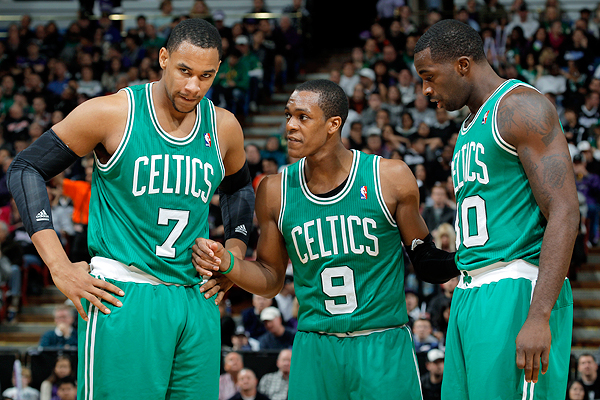 Whether you want Rajon Rondo to stay in Boston or you don't believe the Celtics can build around their controversial guard, having him in the best health possible is very important.
If the Celtics keep Rondo, they need him on the court for obvious reasons. If they want to trade him, his value will be much higher healthy and productive.
In either case, Jared Sullinger recently told a local radio station what he believes will be Rondo's timetable for return and while Sully is far from an authoritative source, his take is encouraging. Here's Jay King from MassLive.com:
Danny Ainge has stated publicly — several times — that point guard Rajon Rondo wants to return from ACL surgery by training camp and play on opening night.

Yet while speaking with WSYX Columbus on Friday, teammate Jared Sullinger shared a different timetable for Boston's four-time All-Star.

"He's back working out again and hopefully he'll be back by December," said Sullinger.
King goes on to point out that while Sullinger is not a medical professional, he does have access to Rondo and could very well have a better idea of how Rondo is progressing.
Dr. Sullinger's timetable makes the most sense to me. Bringing Rondo back and testing his surgically repaired knee during Boston's inexplicably grueling November seems like an unnecessary risk both to his health and the Celtics' 2014 draft pick. Allowing him to wait until December will give him an easy schedule for the first month after his return, and it will help the Celtics realize exactly what they have as a roster next year.
It's an 82-game season, and at the end of the road, Boston's chances of competing in the playoffs are extremely slim. There will be plenty of time for Rondo to gain chemistry with Boston's new pieces without bringing him back immediately. Giving him enough time to recover (or forcing him to take more time off, whichever is necessary) benefits Boston in multiple ways longterm.
Follow Tom on Twitter: @Tom_NBA.
The following two tabs change content below.
Latest posts by Tom Westerholm (see all)