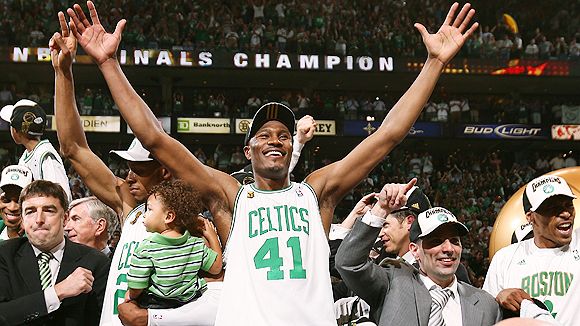 This notebook of Celtics news and notes looks at the possibility of adding James Posey as a coach. There is also an article about Phil Pressey as well as Roy Williams' view of the Celtics' recent blockbuster trade and an important tweet about how much rest Kevin Garnett will receive in his first season in Brooklyn.
POSEY COULD RETURN TO BOSTON AS ASSISTANT COACH
ESPN's Jeff Goodman tweeted that No. 41 could be on the Celtics' bench for the upcoming season:
Former Celtic James Posey among the candidates to fill out Brad Stevens' staff in Boston, source told ESPN. Stevens likely to hire ex-player

— Jeff Goodman (@GoodmanESPN) August 17, 2013
The Ohio native played his final NBA game on April 13, 2011, for the Indiana Pacers. Although Posey spent just one season with the Celtics, he was an important piece of the 2008 championship team. Bringing on a former player would add variety to this Boston coaching staff. Six years ago, Ainge signed Posey to complement the big three, and he turned out be a fantastic sixth man. Now, Posey could return to TD Garden to help usher in the next era for this team.
THE MAN WHO COULD START FOR AN INJURED RONDO
There is a chance that Rajon Rondo does not start for the Celtics on October 30 at Toronto. If that indeed becomes true, Phil Pressey would take his place. A. Sherrod Blakely of Comcast Sports Net New England details the whole situation that surrounds the point guard position in Boston:
Most recoveries from torn ACL injuries take about nine months or longer. An optimistic outlook would put Rondo's return sometime in the middle of November.

Considering how cautious the Celtics have been in the past with players returning from major injuries, it would come as no surprise if they had Rondo spend a couple extra weeks to work on his conditioning without playing in games.

Plus the C's schedule in December consists of 12 games, nine of which are at the TD Garden. A chance for Rondo to get back on the floor with limited travel has to be appealing as well.

However long Rondo is off the floor, the 5-foot-11 Pressey will have an opportunity to establish himself as a player in this league.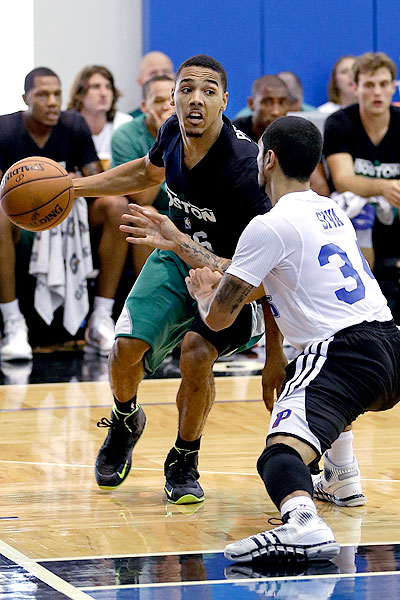 There are many things going for the 22-year-old undrafted rookie. Before impressing the Celtics in the Summer League, Pressey was a college star for the Missouri Tigers. In both 2011-12 and 2012-13, he led his conference in assists while scoring double-digit points per game. Not only does Pressey have the skills to be a professional player, but he also is the son of an NBA veteran:
"He knows what it takes to play at this level," the younger Pressey said of his father Paul, an 11-year NBA veteran and former Celtics assistant coach (2004-2006). "He gives me insights on what he saw throughout his years."
It is significant that Paul can provide guidance to his son along the way. Although Phil was not drafted, he still made the Celtics' roster. Now, he has to adjust to the real NBA game:
Paul Pressey knows there will be a lot thrown at his son quickly, and that Phil won't have a lot of time to digest it all.

However, the elder Pressey contends that the trials and tribulations that his son has endured have prepared him for this moment, this opportunity.

"Him being around basketball all his life, this is second nature to him," Paul Pressey told CSNNE.com. "The biggest thing for him is making the adjustment to what the NBA is all about."
Phil knows that he is fortunate to be under the tutelage of one of the league's best point guards in Rondo. Moreover, he could get very lucky and receive a lot of playing time early in his career:
And while Phil Pressey said he plans to learn all he can from Rondo, he knows Rondo's injury will afford him a chance to compete for playing time from Day One which is rare for an undrafted rookie.

"When you have that opportunity, you can't go wrong with it," Phil Pressey said. "You have an opportunity to prove yourself and show the GM and coaches, you want to play for the team. You can't ask for anything else."
PAUL PIERCE'S COLLEGE COACH GIVES OPINION ON CELTICS' SITUATION
The former Kansas Jayhawks head coach had a lot to say about the Celtics at the Jim Calhoun Celebrity Golf Classic in Connecticut, courtesy of the Boston Herald's Steve Bulpett:
University of North Carolina coach Roy Williams believes Brad Stevens will do very well as he makes the move from college to the Celtics bench, but he does have some mixed feelings about the situation. He wishes Stevens could be coaching Paul Pierce.
Williams' experience with Pierce at Kansas must have been a memorable one because Williams thought that the Truth could have helped Stevens and the transition:
"Yeah, I am a little sad," he said. "And I understand that it had to happen. They want to make over the team because everybody's getting older.

"Hey, I'm getting older myself. I turned 63 on Aug. 1. But I was just really hoping that Paul would be able to be a one-team guy.

"One of the reasons I thought seriously about staying at Kansas 10 years ago and not coming back to North Carolina was that I wanted to be one of those coaches that just coached at one school. I admire some of those professional athletes that just stay with one club, and I was hoping Paul would be one of them."

Williams paused and added, "Paul has done so much for Boston, and Boston has meant so much to him. I just thought that would have been neat."
He is definitely accurate with the Captain's effect on Boston. Pierce brought Celtic Pride to the city and was the only player to remain on the team from his debut in 1999 through 2013.
Although Stevens does not have a very talented team, Williams still believes he will perform well as an NBA head coach:
"Well, Brad is really intelligent," he said. "Really intelligent. He's very organized. And it appears the Celtics are changing over a little bit. They understand they're going to go through some problems, and I think Brad will be great for them.

"Most of the college coaches that go to the NBA get the bad jobs, so they don't succeed. But if the Celtics will give him the time — and I think Danny (Ainge) will — they'll be very successful. Danny's bright. They'll be fine."
Add Williams in as another college coach who thinks that Stevens will have a successful transition to the NBA. Moreover, the six-year contract means that the Celtics organization has confidence in their new coach:
While Williams greatly admires what Stevens has done with the Butler program, he thinks that the combination of circumstances — the Celtics situation, his age, his ambition — make this a good move for both the coach and the franchise.

"I have had a lot of opportunities to go to the NBA, and I thought about some of them, but not for very long," Williams said. "But I think Brad is different. I think he's ready to do this, and I think he'll be really good for them."
NO BACK-TO-BACKS FOR KG?
On Friday, Stefan Bondy of the New York Daily News tweeted the following about the Nets' plan to consistently rest the Big Ticket in the regular season:
Jason Kidd said Kevin Garnett probably won't play in any back-to-backs

— Stefan Bondy (@NYDNInterNets) August 16, 2013
If he sits out one game of each of the 20 Brooklyn back-to-backs in 2013-14, then that leaves a minimum of 62 games before the playoffs for the 18-year veteran. The fewest number of games that Garnett has played in a non-lockout season was 57 in 2008-09. He never played in more than 71 regular-season contests in a season in a Celtics uniform. With KG now at 37 years old, the Nets do not want to take any chances.
For more Celtics coverage and pertinent statistics, follow Celtics Hub and Stats Adam Lowenstein on Twitter: @CelticsHub and @StatsAdam
The following two tabs change content below.
Latest posts by Adam Lowenstein (see all)