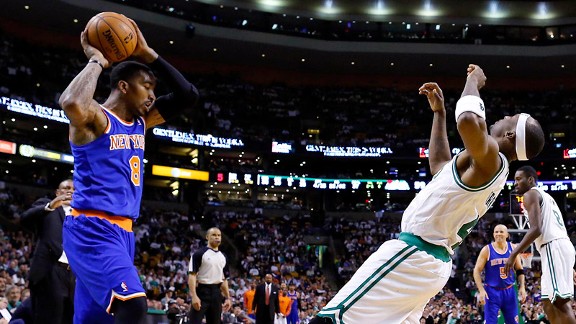 New York at Boston
1:00 P.M. ET
TD Garden
ABC
Postseason Offensive Efficiency:
Boston: 85.8 points/100 possessions (16th)
New York: 99.7 points/100 possessions (12th)
Postseason Defensive Efficiency:
Boston: 99.7 points allowed/100 possessions (5th)
New York: 85.8 points allowed/100 possessions (1st)
Probable Knicks Starters:
Raymond Felton (PG), Pablo Prigioni (SG), Iman Shumpert (SF), Carmelo Anthony (PF), and Tyson Chandler (C)
View From The Opposing Bench: KnickerBlogger
Thumbnail: While the Knicks are expected to have the same starting lineup in Game 4 as they had in Games 2 and 3, New York will be without the reigning Sixth Man of the Year. The NBA waited until Saturday night to reveal that the league suspended J.R. Smith for Sunday's contest in Boston for elbowing Jason Terry in the fourth quarter on Friday. This announcement adds a glimmer of hope for a Celtics team that has failed to string together a few strong quarters this postseason. The two best players in this series at making their own shot are Carmelo Anthony and Smith, so it will be a welcome sign for the Boston defense not to have to guard both of them in this game. Coming into Sunday, Smith had scored double-digit points in his last 22 combined regular season and postseason games, the longest streak of his career.
Although Smith will not be seeing court time in Game 4, the Celtics still need to step their play in order to be victorious at home on Sunday. Boston has now turned the basketball over 17 times per game in this first-round series while New York has less than 12 per contest in the previous three games. In addition, the Celtics' assist-to-turnover ratio is 0.90, by far the worst of any team in the 2013 NBA playoffs. While the Knicks do not have one player who can replace Smith's impressive skills, they are still a deep team that has been ball-hawking more than any recent Celtics' opponent. New York's 11.3 steals per game lead all teams this postseason, so Boston will hope to try to channel their inner-Rajon Rondo ball-handling for this game.
It must be said that no team in NBA history has ever come back from down 3-0, so Celtics fans have to believe history will repeat itself in Boston. Just about a decade ago, there were many iconic moments in both Beantown and the Big Apple as the Boston Red Sox won four consecutive games against the New York Yankees after dropping the first three. The Red Sox became the first team in MLB history to perform that feat, so maybe lightning strikes twice in Boston. The initial step comes Sunday as the Celtics have gotten a little help from the association. The men in green have yet to have a strong full game in this series, so if they want any chance at winning four games against the Knicks, Paul Pierce, Kevin Garnett and Jeff Green will have to lead the way and show the TD Garden faithful why there is still hope.
Prediction: The Celtics finally get the crowd rocking as they get the close victory over the Smith-less Knicks.
Celtics 89, Knicks 86
For more Celtics coverage and pertinent statistics, follow Celtics Hub and Stats Adam Lowenstein on Twitter: @CelticsHub and @StatsAdam
The following two tabs change content below.
Latest posts by Adam Lowenstein (see all)