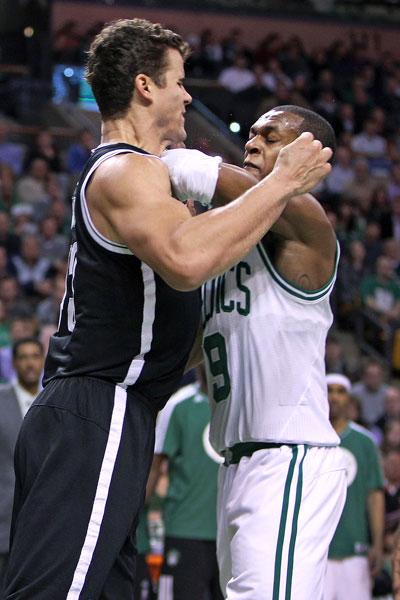 Brooklyn at Boston
8:00 P.M. ET
TD Garden
ESPN/CSNNE
Offensive Efficiency:
Boston: 100.8 points/100 possessions (21st)
Brooklyn: 104.8 points/100 possessions (9th)
Defensive Efficiency:
Boston: 100.0 points allowed/100 possessions (5th)
Brooklyn: 103.6 points allowed/100 possessions (17th)
Probable Nets Starters:
Deron Williams (PG), Joe Johnson (SG), Gerald Wallace (SF), Reggie Evans (PF), and Brook Lopez (C)
View From The Opposing Bench: Brooklyn's Finest
Thumbnail: The last time the Nets were in Boston, Rajon Rondo's 37-game double-digit assist streak ended after being ejected for pushing Kris Humphries, who had fouled Kevin Garnett to the ground. The Nets went on to win that game at TD Garden, becoming just their second victory there since Garnett joined the Celtics. After Brooklyn won the first two meetings this season, Boston took revenge on the Nets on Christmas. This will be the first time that the two teams will face off since then. The Nets are hoping to win their third game over the Celtics this season after being victorious just twice against them in the previous five seasons.
However, the Celtics are looking to make it two wins in a row in order to avoid losing a season series to the Nets for the first time in seven seasons. One of the reasons that Boston can win this game is controlling the paint. In each of the three meetings in 2012-13, the Celtics have scored more points in the paint than the Nets. Although Brooklyn won the rebounding battle in both of their victories, Boston still scored more in the key. It is impressive that the Celtics have succeeded against the Nets in the paint because the Celtics are in the bottom five in the league in interior scoring. Unfortunately for the Boston, Brooklyn has made and attempted more free throws than the men in green in each of the three contests this season.
The Celtics will hope that the two days off from their last game will help them keep the free-throw margin close. Rest has been an interesting phenomenon for the Celtics in 2012-13. On the second day of back-to-backs this season, the Celtics are .500 (10-10 record). After one full day of rest, they are .500 (19-19). If the Celtics win on Wednesday, they will be .500 (6-6) on two days of rest. They have enjoyed a 6-2 record on at least three days of rest in 2012-13, but they are otherwise an average team regarding the number of days off. With Monday and Tuesday to relax, Paul Pierce will have enough energy to try for 25 points, which would make him the 20th player in NBA history with 24,000 career points.
Prediction: Pierce gets to 24,000 in a close Celtics victory.
Celtics 98, Nets 94
For more Celtics coverage and pertinent statistics, follow Celtics Hub and Stats Adam Lowenstein on Twitter: @CelticsHub and @StatsAdam
The following two tabs change content below.
Latest posts by Adam Lowenstein (see all)