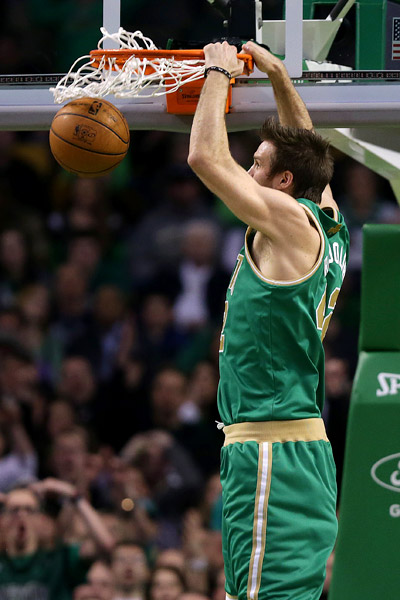 Boston at New York
7:30 P.M. ET
Madison Square Garden
CSNNE
Offensive Efficiency:
Boston: 100.7 points/100 possessions (22nd)
New York: 107.9 points/100 possessions (3rd)
Defensive Efficiency:
Boston: 99.7 points allowed/100 possessions (5th)
New York: 103.1 points allowed/100 possessions (16th)
Probable Knicks Starters:
Raymond Felton (PG), Pablo Prigioni (SG), Iman Shumpert (SF), Carmelo Anthony (PF), and Kenyon Martin (C)
View From The Opposing Bench: KnickerBlogger
Thumbnail: The Celtics traveled to New York with revenge on their minds. On Tuesday in Boston, the Knicks pushed their winning streak to five games, giving the Celtics their fifth consecutive loss. Since that game, both teams have gone 2-0. After a strong performance on Friday against the Hawks, Boston looks to have it carry over into Sunday night's game against the Knicks, who are now winners of seven straight games. That New York winning streak is the longest current one in the NBA as well as the team's longest this season. Just 13 days ago at TD Garden, the Celtics were very close to ending the Heat's 22-game winning streak, but this time they are at a different "garden" trying to end an opposition's streak.
Fortunately for Boston, Tyson Chandler could miss his 10th consecutive game. Although the Knicks are 7-2 without him this season, they are still four points worse per 100 possessions without Chandler on the floor. J.R. Smith has stepped up in a huge way for this New York team that is well on its way to ending the Celtics' five-year reign as Atlantic Division champions. With the Nets' loss on Saturday night, the Knicks are very close to finishing atop the division for the first time since 1993-94. New York has separated from Brooklyn and Boston mainly because of Smith, who is the first bench player in more than two decades to score at least 30 points in three consecutive games (via Elias). In addition, the Knicks have two of the four highest scorers in the league over the last ten games: Carmelo Anthony (second, 29.6 PPG) and Smith (fourth, 28.6 PPG).
On Sunday, the Celtics will hope to deploy Courtney Lee for more than the six minutes that he played on Friday. That was his first game back after suffering an ankle injury a week ago. Boston needs Lee to help the team's defense as it attempts to handle all of the Knicks' offensive weapons. Although the Celtics lost Tuesday's rebounding battle by only one, they gave up a whopping 15 offensive rebounds to the Knicks, which led to 29 second chance points for New York that night. Shavlik Randolph hopes to reduce that number on Sunday after showing off some impressive rebounding skills on Friday. He became just the third Celtic reserve in almost 30 years to grab at least 13 rebounds in that little of playing time. Boston will have to play much more like it did on Friday than it did on Tuesday to have a chance at winning this game against the Knicks.
Prediction: If Chandler sits, the Celtics are able to prevent the Knicks from getting extra opportunities. Boston steps up to get its second victory at Madison Square Garden this season.
Celtics 105, Knicks 102
For more Celtics coverage and pertinent statistics, follow Celtics Hub and Stats Adam Lowenstein on Twitter: @CelticsHub and @StatsAdam
The following two tabs change content below.
Latest posts by Adam Lowenstein (see all)