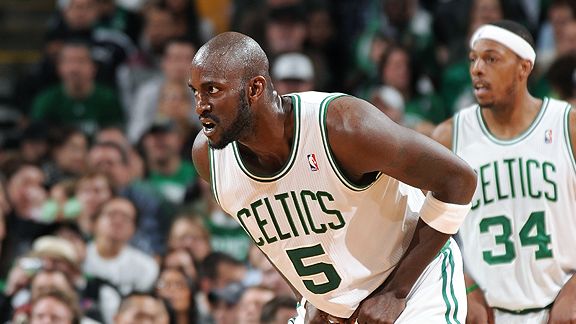 Boston at New Orleans
8:00 P.M. ET
New Orleans Arena
CSNNE
Offensive Efficiency:
Boston: 100.5 points/100 possessions (22nd)
New Orleans: 102.6 points/100 possessions (15th)
Defensive Efficiency:
Boston: 99.4 points allowed/100 possessions (4th)
New Orleans: 107.5 points allowed/100 possessions (28th)
Probable Hornets Starters:
Greivis Vasquez (PG), Eric Gordon (SG), Al-Farouq Aminu (SF), Anthony Davis (PF), and Robin Lopez (C)
View From The Opposing Bench: Hornets 247
Thumbnail: Not many fans think that the Hornets would have the second-best winning percentage of any NBA team against the Celtics over the last four seasons. Well, New Orleans, a bottom 10 team in the league since 2009-10, is 4-2 against Boston in that span. Earlier this season, the trend continued as Monty Williams' squad went into TD Garden and upset the Celtics, 90-78. That remains tied for Boston's largest home defeat in 2012-13. In that contest, the Hornets dominated the boards, 48 to 33. That rebound differential is the worst for the Celtics at home this calendar year. Now, the Celtics venture to New Orleans hoping to split the season series with the Hornets.
Fortunately for the Celtics, the Hornets own the worst record in the Western Conference. In addition, New Orleans has won just three of its last 15 games. On Monday, the Hornets fell to the Golden State Warriors by 21 points at New Orleans Arena, which tied their worst home loss since December. However, the only teams yet to beat the Hornets this season are the Bobcats, Pistons, Kings and Celtics. Boston does not want to stay in that group after Wednesday. With Kevin Garnett expected to play, the Celtics will have a good chance at winning their first game against the Hornets since March 2011.
One of the most important reasons that the Celtics have been successful since Rajon Rondo's injury is their outside shooting. In six of their last 12 games, Boston has made double-digit 3-pointers. The Celtics were unable to make at least 10 shots from 3-point distance in any of their first 46 games this season. They enter Wednesday's game having made double-digit 3-pointers in consecutive games for the second time in the last three seasons. With all the injuries that Boston has suffered in 2012-13, the team will have to live by the three and die by the three in order to have a chance at advancing through a few rounds in the 2013 playoffs. For now, the Celtics have to try to move up the standings to attempt to get home court. They are only 2.5 games behind the Brooklyn Nets, who are in the fourth seed.
Prediction: With Garnett back in the lineup, the Celtics get revenge against the Hornets.
Celtics 97, Hornets 89
For more Celtics coverage and pertinent statistics, follow Celtics Hub and Stats Adam Lowenstein on Twitter: @CelticsHub and @StatsAdam
The following two tabs change content below.
Latest posts by Adam Lowenstein (see all)