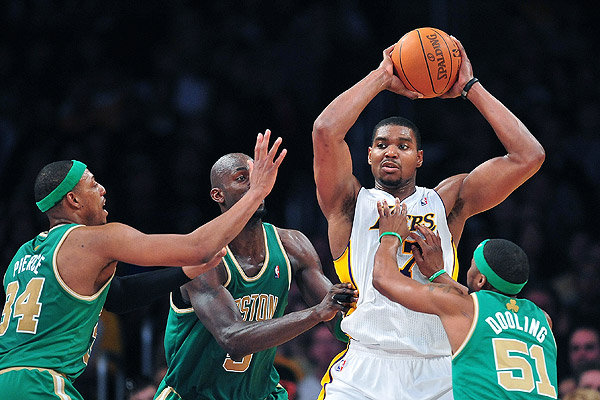 Boston at Philadelphia
7:00 P.M. ET
Wells Fargo Center
TNT
Offensive Efficiency:
Boston: 100.3 points/100 possessions (21st)
Philadelphia: 98.5 points/100 possessions (27th)
Defensive Efficiency:
Boston: 99.5 points allowed/100 possessions (5th)
Philadelphia: 102.2 points allowed/100 possessions (12th)
Probable 76ers Starters:
Jrue Holiday (PG), Royal Ivey (SG), Evan Turner (SF), Thaddeus Young (PF), and Spencer Hawes (C)
View From The Opposing Bench: Hoop76
Thumbnail: The Celtics must be glad to get their second elongated break over the last few weeks. Coming into Tuesday, they have played just one game over the last seven days. Just like with the All-Star break, Boston played well heading into the resting period. The Celtics have won three of their last four games, which were all against Western Conference opponents. In addition, two of those three victories were on the road, becoming the first two road wins for Boston against the other conference in 2012-13.
The men in green will now play four games over the next six days. First up is Philadelphia, a team that has been terrible recently. The 76ers have lost eight of their last nine games, and Doug Collins is on the hot seat. He recently expressed skepticism in Andrew Bynum's recovery as well as his team overall. Philadelphia will almost certainly miss the playoffs, as the team is seven games out of the eighth playoff spot. However, that does not mean that the 76ers will just lay down Tuesday night on their home floor in a nationally televised game. While they have lost their last 10 contests on the road, the 76ers are still an above .500 home squad. Moreover, one of their 17 home victories this season was their 95-94 overtime win against the Celtics in December.
Heading to Philadelphia at this time of the year with something prove is not new to the Celtics franchise. Celtics radio play-by-play broadcaster Sean Grande pointed out the Celtics were in the same situation 11 years and one day ago. The 31-27 Celtics played the 76ers on March 4, 2002. Boston won that game, 100-94, behind a game-high 28 points from Paul Pierce. Then, the Celtics proceeded to win 17 of their final 23 regular season games in 2001-02. Maybe history repeats itself with this year's Celtics.
Prediction: The Celtics move to 6-1 in their last seven games in which they played on at least three days rest.
Celtics 94, 76ers 90
For more Celtics coverage and pertinent statistics, follow Celtics Hub and Stats Adam Lowenstein on Twitter: @CelticsHub and @StatsAdam

The following two tabs change content below.
Latest posts by Adam Lowenstein (see all)