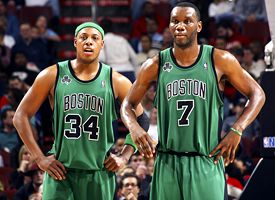 Boston at Utah
9:00 P.M. ET
EnergySolutions Arena
CSNNE/NBATV
Offensive Efficiency:
Boston: 100.3 points/100 possessions (23rd)
Utah: 103.6 points/100 possessions (11th)
Defensive Efficiency:
Boston: 99.6 points allowed/100 possessions (5th)
Utah: 104.4 points allowed/100 possessions (21st)
Probable Jazz Starters:
Jamaal Tinsley (PG), Randy Foye (SG), Marvin Williams (SF), Paul Milsap (PF), and Al Jefferson (C)
View From The Opposing Bench: Salt City Hoops
Thumbnail: On Sunday night, the Celtics traveled from one Northwest divisional city to another. Monday's game in Utah will be the end of a season-long five-game road trip for Boston. The men in green will hope to continue their success against Al Jefferson, who was drafted 15th overall by the Celtics in 2004.
After playing 206 regular season and postseason games for Boston from 2004 to 2007, Jefferson has yet to beat his former team. Although he has scored double-digit points in nine of his 10 career contests against the Celtics, Jefferson's Timberwolves went 0-6 and his Jazz have had a 0-4 record. Jefferson will hope to defeat his old friend, Paul Pierce, while also trying to advance his current streak of scoring at least 10 points to 29 consecutive games.
In order for the Celtics to avoid losing on back-to-back nights, they will have to shoot well. Boston's field goal percentage typically determines the outcome. On Sunday, the Celtics shot 42.4% from the field. When the Celtics have a field goal percentage as low as they did against Portland, they are 4-12 this season. However, when they shoot at least 50% in a game, they are 13-2 in 2012-13. Boston also cannot afford to struggle from three-point range against Utah, one of the worst teams in the NBA at defending it this season.
Another area that the Celtics have to improve is their rebounding. They have had fewer offensive rebounds than their opponent in 15 consecutive games, the longest streak of any team this season and tied for the second-longest streak in the NBA since 2004-05. Even though Doc Rivers stresses for his players to get back on defense instead of trying for offensive rebounds, this phenomenon is still very troublesome for the Celtics. Boston will hope to improve their rebounding on Monday at Utah, so that the team will be able to get their 10th road victory of the season. The Celtics are the only current playoff team to still have fewer than 10 road wins in 2012-13.
Prediction: Jefferson has a strong performance and notches his first career victory against the Celtics.
Jazz 98, Celtics 95
For more Celtics coverage and pertinent statistics, follow Celtics Hub and Stats Adam Lowenstein on Twitter: @CelticsHub and @StatsAdam

The following two tabs change content below.
Latest posts by Adam Lowenstein (see all)