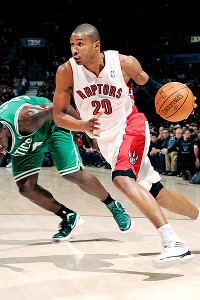 Boston at Toronto
7:00 P.M. ET
Air Canada Centre
CSNNE
Offensive Efficiency:
Boston: 100.0 points/100 possessions (21st)
Toronto: 103.7 points/100 possessions (11th)
Defensive Efficiency:
Boston: 99.9 points allowed/100 possessions (6th)
Toronto: 105.0 points allowed/100 possessions (25th)
Probable Raptors Starters:
Kyle Lowry (PG), DeMar DeRozan (SG), Rudy Gay (SF), Amir Johnson (PF), and Aaron Gray (C)
View From The Opposing Bench: Raptors Republic
Thumbnail: How about this recent stretch for the Celtics? A 4-0 homestand without their floor general, Rajon Rondo, is fantastic to see, and statistics say that this is no fluke. Boston has better offensive and defensive efficiencies without him. The Celtics are 3.3 points per 100 offensive possessions better with Rondo off the floor. In addition, they are 1.5 points per 100 defensive possessions better without him. Still, no one can be sure in saying that the Celtics are better without Rondo, but this four-game stretch has proven that Boston is going to be a tough team to bounce out of the 2013 playoffs.
One of the reasons for this winning streak is Leandro Barbosa, who played for the Raptors last season. He averaged more than 20 minutes per game in Toronto in 2011-12. In the last four games, Barbosa has played 23 minutes per game after just 10 minutes per game in his first 33 games this season. On Sunday, he was one of three Celtics reserves to score at least 12 points. Since New Year's Day, the Celtics have played 17 games and in five of them, three Boston players have each come off the bench to score 12 or more points. According to Elias, that happened only once in the previous four calendar years (2009-12) for the Celtics. Most importantly, three of those five games have come without Rondo.
It is tough to tell how the Raptors will come out tonight against the resurgent Celtics. Both Boston and Toronto have recently had major changes to their roster. The Raptors currently stand 7.5 games behind the Celtics for the final playoff spot in the Eastern Conference. General Manager Bryan Colangelo took a risk by making the trade for Rudy Gay, but bringing a ball-dominating scorer to Canada could put the Raptors in a position to fight for this season's playoffs as well as allowing them to be a contender for the upcoming years. In just two games in Toronto, Gay already has attempted 39 field goals and scored 49 points, both team-highs. The Celtics guards will also have their hands full with DeMar DeRozan, who has been 15-for-15 from the free throw line since Gay has started playing for the Raptors.
Prediction: The Celtics extend their winning streak to five games, just one away from tying their season-high six-game winning streak that they had about a month ago.
Celtics 97, Raptors 92
For more Celtics coverage and pertinent statistics, follow Celtics Hub and Stats Adam Lowenstein on Twitter: @CelticsHub and @StatsAdam

The following two tabs change content below.
Latest posts by Adam Lowenstein (see all)