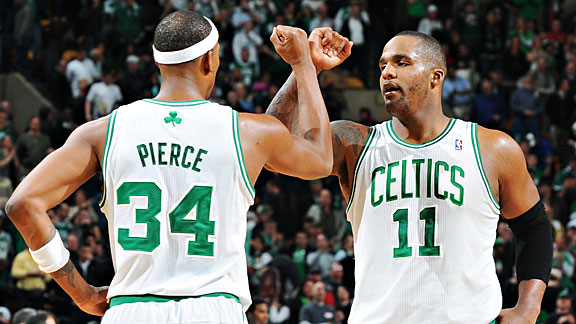 Orlando at Boston
7:30 P.M. ET
TD Garden
CSNNE
Offensive Efficiency:
Boston: 99.8 points/100 possessions (23rd)
Orlando: 100.9 points/100 possessions (17th)
Defensive Efficiency:
Boston: 100.1 points allowed/100 possessions (7th)
Orlando: 105.3 points allowed/100 possessions (25th)
Probable Magic Starters:
Jameer Nelson (PG), J.J. Redick (SG), Moe Harkless (SF), Andrew Nicholson (PF), and Nikola Vucevic (C)
View From The Opposing Bench: Magic Basketball
Thumbnail: It was fantastic to see the Celtics trounce the Sacramento Kings on Wednesday because now they have an even worse opponent coming to TD Garden Friday: the Orlando Magic, a team that is currently on a seven-game losing streak, the longest current one in the league. Orlando is also without Glen Davis, who is one of the only reasons that the team has enjoyed some success this season. In 2012-13, they are 1-16 when he plays fewer than 25 minutes or does not play at all. When Davis has played at least 25 minutes this season, the Magic are 13-15. With a lot of areas in the Celtics' favor, they are expected to win by double digits for the second consecutive game.
In addition, let us not forget the freedom that Boston's guards felt without Rajon Rondo. Courtney Lee, Jason Terry, and Leandro Barbosa are much more comfortable when they receive more offensive touches. While the Celtics may struggle to keep their offensive consistency without their floor general in the long run, Avery Bradley and the three other main guards are no slouches. When Rondo has been off the court this season, the statistics actually show that the Celtics have benefitted in scoring, scoring defense, rebounding, and limiting turnovers.
Coming into Friday's contest, the Celtics this season have played 1,422 minutes with Rondo on the floor and 793 minutes with him off the court. In 2012-13, the Celtics are a shockingly 2.7 points per 100 possessions better on the offensive end without Rondo on the floor. Moreover, the Celtics are an impressive 1.3 points per 100 possessions better on defense with Rondo on the bench this season. The Celtics' turnover percentage (approximate turnovers per 100 possessions) is 1.4% better without Rondo. The Celtics' total rebounding percentage is also 2.2% better without Rondo. While no one can definitively say that the Celtics are better without their main point guard, these statistics point to the fact that they are not much worse.
Prediction: Jared Sullinger's season-ending injury may cost the Celtics a few points and rebounds on Friday, but the Magic cannot make up for the absence of Big Baby. The Celtics win their seventh consecutive game against Orlando.
Celtics 101, Magic 90
For more Celtics coverage and pertinent statistics, follow Celtics Hub and Stats Adam Lowenstein on Twitter: @CelticsHub and @StatsAdam

The following two tabs change content below.
Latest posts by Adam Lowenstein (see all)