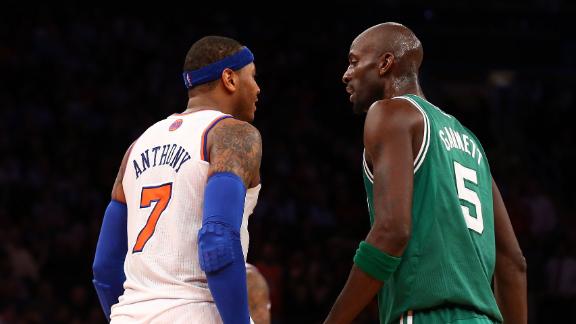 New York at Boston
8:00 P.M. ET
TD Garden
TNT
Offensive Efficiency:
Boston: 100.0 points/100 possessions (21st)
New York: 108.7 points/100 possessions (3rd)
Defensive Efficiency:
Boston: 100.4 points allowed/100 possessions (8th)
New York: 102.8 points allowed/100 possessions (16th)
Probable Knicks Starters:
Jason Kidd (PG), Iman Shumpert (SG), Carmelo Anthony (SF), Kurt Thomas (PF), and Tyson Chandler (C)
View From The Opposing Bench: KnickerBlogger
Thumbnail: I guess we can call this current four-game losing skid another rock-bottom moment for the 2012-13 version of the Celtics. It is possible to blame some of their recent defensive struggles on Avery Bradley's rib injury, but Boston's issues go further than just that. Statistically, the Celtics are staring at possibly their worst season in a while. After having just two losing streaks of at least four games in 2011-12, Boston has already suffered two losing streaks of that length this season. In the first four years of the Kevin Garnett era, the Celtics had just one losing streak of at least four games.
As of late, the Celtics have not be able to compete against bad NBA teams, so maybe they can play up to their opponents in this upcoming tough stretch. In addition, maybe some home cooking could help Boston. The Celtics play eight of their eleven games before the All-Star break at TD Garden. While most are against projected playoff teams, the Celtics have been good at home this season, sporting a 13-8 record.
The first opponent of this important stretch: the Knickerbockers. Get ready for all the Honey Nut Cheerios you can eat at the TD Garden on Thursday for the nationally televised game. History is on the Celtics' side in this matchup. Including the playoffs, Boston has yet to lose a game in their 12 meetings against New York at TD Garden since 2007-08.
Raymond Felton's absence from this game will also help the Celtics. The Knicks have posted a 20-8 record in his 28 games started this season, but a pinkie injury has forced him to miss the last 11 contests. The Knicks have lost six of those games, including January 7th at Madison Square Garden against the Celtics, and are shooting worse from the field and three-point without Felton playing. Let's also remember that Rondo did not play in that game in New York a few weeks ago.
Prediction: The Celtics again take advantage of Felton not playing. They stop the losing streak and make it a perfect 13-for-13 against the Knicks at TD Garden since 2007-08.
Celtics 99, Knicks 96
For more Celtics coverage and pertinent statistics, follow Celtics Hub and Stats Adam Lowenstein on Twitter: @CelticsHub and @StatsAdam

The following two tabs change content below.
Latest posts by Adam Lowenstein (see all)