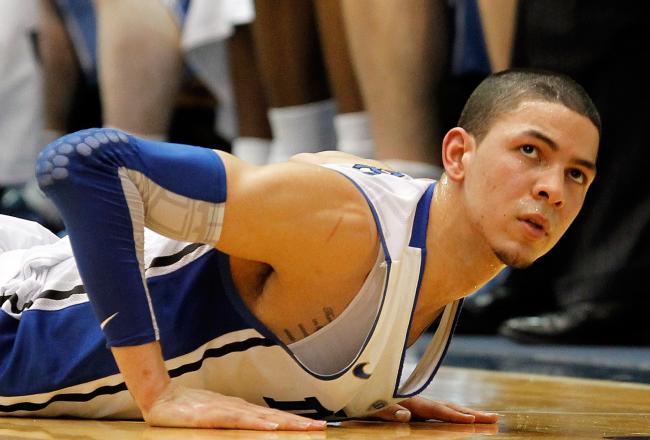 Update 6:24 PM EST— According to Yahoo! Sports columnist Adrian Wojnarowski, the Hornets are planning to select Austin Rivers with the 10th pick if he's still available.
It appears there's a specific reason the Celtics are interested in entering the lottery, and it goes deeper than the obvious rationale every team in basketball has for wanting to get a top 10 pick. Supposedly, Boston is trying to acquire its head coach's son, Austin Rivers.
This just in from SI.com NBA writer Sam Amick:
Sources say Boston's push to move into the lottery is partly driven by a desire to land Duke's Austin Rivers, son of Cs coach Doc Rivers. Celtics have the No. 21 and No. 22 picks.
Before everyone flips out on one of the most polarizing players available in this year's draft, not to mention how insane it would be for Doc Rivers to coach his own son, ESPN.com's Chad Ford and Marc Stein are reporting that the Celtics aren't so sure they'll be able to trade up high enough. As we said earlier upon hearing Wojnarowski's report that Danny badly wants to enter the lottery, this team probably doesn't have enough cards to place on the table. Avery Bradley (untouchable, let's hope) is the only real blue chip who I could see entering the discussion, but maybe someone out there is willing to bite on picks 21 and 22 plus next year's second rounder the Celtics were recently awarded from Oklahoma City. It's a tough sell, but in a draft as deep as this one, it wouldn't shock me to see a talent riddled lottery team feel as though two competent players are equal in value to one above average starter.
To me, regardless of the player's last name, this would be a great get for the Celtics. I don't particularly mind that it's Doc Rivers' son, and there's nobody out there who could possibly know if it'll be negative or positive regarding his development. But looking at it purely from a basketball perspective, Rivers is one of the best players in this draft class at scoring off the dribble and beating his man one on one. Right now the Celtics have Rajon Rondo and an aging Paul Pierce on their roster as players who can consistently get off a shot with the shot clock winding down or in an isolation situation. It's an obvious need.
On paper, adding a player like Rivers to the fold would only improve the Celtics offense, which has been a significant point of weakness and very difficult to watch these past few years. Also, Kevin Garnett appears to be in love with him, so that's certainly a plus.
The following two tabs change content below.
Latest posts by Michael Pina (see all)