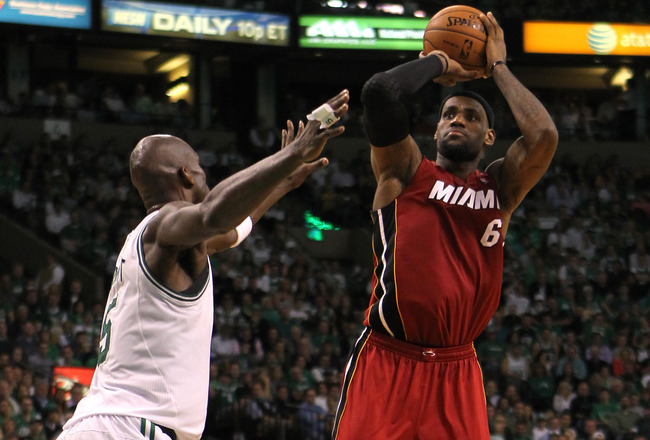 "LeBron, he had a game. He had a game." — 16-year NBA veteran Ray Allen
In Game 6's first three quarters, of which he played every second, LeBron James took 26 shots and missed seven. He was a human hydrogen bomb, capable of detonating himself multiple times—even though, just like a real hydrogen bomb, to drop it once is more than enough. At halftime, James had relegated his arch-nemesis Celtics to a minute community scurrying to rebuild their devastated village. Every time a brick was laid, another bomb was dropped. Then another. And another. And another.
From the strategist's bunker of a living room couch, I'm sure many fans were wondering why Boston didn't just double the man. Throw as many defenders at him as humanly possible, and force Miami's supporting cast to prevent a historically embarrassing playoff loss. Here are three reasons, both general and hyper-tuned to Game 6 specifically, why that might not be the best strategy when dealing with a player as naturally gifted as LeBron James.

1) For the first 30 or so minutes of the game, Boston was within some sort of manageable striking distance. They were getting decent looks, but most of them just weren't falling, and the train of thought here was that if you defended LeBron strong with one man, his legs would eventually exhaust themselves (as they did in last year's finals), and with it being too late for any of his teammates to pick up meaningful rhythm, Miami's offense would struggle to find another reliable option. Obviously, this did not happen. The Celtics did in fact pick their spots with double teams on LeBron, but they were either late or ineffective. In a way, all this strategy did was add to the man's legacy. Here are two examples.
(Just a quick note on this first clip: Chris Bosh may not have had himself an impressive box score, but his presence on the court was undeniable. On offense, Bosh roamed around the three-point line—either in the corner or above the break—for much of the game, and it kept Kevin Garnett from serving as Boston's second layer of interior defense. Heading into Saturday night, this is a gigantic problem that the Celtics need to solve.)
Poor Stiemsma.
2) As one of the smartest basketball players in the league, if you double LeBron consistently he's going to pick up on it. And when he combines that brilliant IQ with his impeccable vision, count on other Heat players scoring some easy baskets.  The Celtics opened up the fourth with a pseudo-zone, but it was too little too late. Look what happens when they try collapsing on LeBron in the open court.
I realize that when LeBron is attempting to back someone of Rondo's size down, bringing a help defender over is a must. This clip is more a representation of how quick James is able to recognize what the defense is doing, and the result is a "hockey assist" and relatively easy layup for Dwyane Wade.
3) The way LeBron attacked made it nearly impossible for a consistent double team. Most of his baskets were jumpers, early in the shot clock, before any help could come. For all of basketball's various and increasingly complicated X and O strategies that have evolved since the late 19th century, none of it matters when a guy who averages 42% on mid-range jumpers in the regular season, and 40.7% in these playoffs (including Game 6), rises up from the perimeter and drains nearly every shot he takes. When this same player happens to also be one of the best passers in the world, well, your only hope is to never turn the ball over and match him each and every time.
Unfortunately, the Celtics went 1-11 from beyond the arc in the game's first three quarters, and that's what this contest boiled down to. It's why they pulled out an improbable victory in Game 5, and it's why if they want to advance on Saturday night, they simply have to shoot the ball better. Defense is great, but when LeBron James is playing like true basketball royalty, defense shrinks in its role as a winning solution. Here's a shot chart to prove it.
LeBron was all by himself last night, and there were no defensive scheme sophisticated enough to bother him in the slightest way. Double him on the catch and leave yourself at the mercy of wide open (and I mean WIDE open) three-pointers from the likes of Shane Battier, Mario Chalmers, and Mike Miller. Bring help over, and all of a sudden you're giving Dwyane Wade mouth to mouth resuscitation, which I'm sure is the last thing Doc Rivers wants heading into Game 7. LeBron knew Game 6 was on him, and he responded. Plain and simple. That's what great players do.
This was why Celtics fans felt so demolished after Game 2, when Rondo went off in a way that made no tangible sense. That was the game that should've made people in Miami say, "Welp, that just happened. When's Game 3?".  The thinking here was that if he did that in a loss, then what would it take for a win? The difference between LeBron in Game 6 and Rondo in Game 2 was the third quarter. Rondo paced himself on the court, taking a breather while still doing his best to run an offense and make the defense respect his presence. He took three shots, scored four points, and dished out one assist. Miami outscored Boston by 13 points in the quarter.
LeBron's third quarter was a tad more impressive, which is why he's the best player in the world, and one of the 10 greatest talents in NBA history. With three fouls on Pierce, Brandon Bass covering him to start (for reasons unknown), and Pietrus picked it up later on, James scored 11 points on eight shots. When I compared LeBron to a hydrogen bomb, this play is what I was talking about.
In Game 6, nothing could've been done. If the Celtics want to advance to the NBA Finals, they need to accept that, move on, and pray to the Basketball Gods that LeBron James' reign gets postponed at least one more year.
The following two tabs change content below.
Latest posts by Michael Pina (see all)