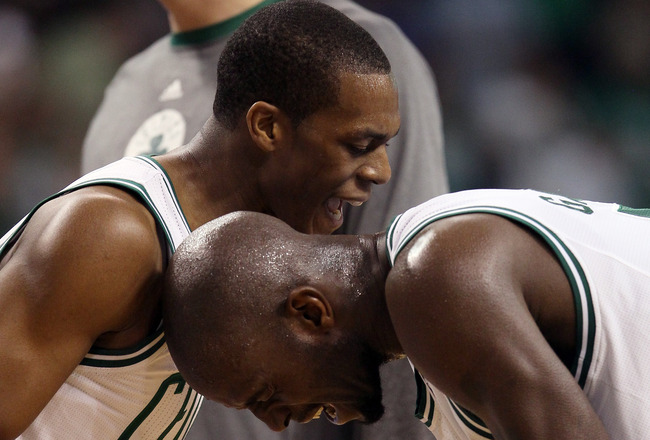 Boston — Years from now, after we've long forgotten just how painful this basketball series was for its viewers, the many open shots, nasty rebounds, and hellacious screens that made up Game 7 will be boiled down to one play; a single sequence that will stand strong through time as the entire series' most significant. If you watched the game, you probably know what I'm talking about.
Late in the fourth quarter, after Rajon Rondo retrieved his ninth rebound of the game following an errant Thaddeus Young jumper, the Celtics held a seven point lead. He immediately tried to initiate a pick and roll on the left wing with Kevin Garnett, but it was thwarted. They tried it again, but instead of flinging it back to Garnett, Rondo threw a dart to Ray Allen in the corner. With less than seven seconds remaining on the shot clock, this play had the feel of several before it: left for dead and discombobulated. Allen tried to drive baseline but after realizing two Sixers weren't obliging any paths to the basket, he threw it back to an open Brandon Bass, standing right around the three-point line. Now the shot clock was at three, and even though he was wide open, Bass knew this wasn't his shot to take. In one motion, he turned and fired the ball back to Rondo.
The shot wasn't rushed, it was fluid. A quick catch, turn, and release not often seen from Boston's point guard throughout his career. Of course, it went in. And the rest, as they say, is history.
"It's what we expected," Keyon Dooling told CelticsHub after the game. 'Rondo made all the plays down the stretch, if it wasn't the assist pass, it was the score, it was the hockey assist, it was calling the right sets, it was rebounding the basketball, getting steals, getting blocks. He did everything tonight. He was spectacular."
As Dooling prefaced nicely, to describe just one shot wouldn't do Rondo's performance justice. When Paul Pierce picked up his sixth foul with 4:16 left in the game, a few boos directed at the officials rang out through the crowd, but most fans were silent. People knew the call's significance, and shock turned to dread at the bat of an eyelash.
Boston led by three at the time, but Pierce was the only Celtic who appeared to possess natural rhythm within the game's choppy flow. Then, in a sequence that could best be described as "typical" in the sense that it was "out of thin air", Rondo saved the day, scoring 11 astonishing points in the game's final couple of minutes, finishing with yet another triple double, and leading this gritty, resilient Celtics team to yet another round of postseason action.
Yet still, because it's Rondo, questions remain. Was this fourth quarter performance a defining one? Because of its magnitude and context, was it a benchmark moment in Rondo's career? Was it the game we'll all point to whenever doubters say he's incapable of "doing things on his own?" Or was this just Rondo acting as Rondo tends to act, where in the not so distant future, he misses all those shots and remains passive at the end of a close game.
Rondo is undoubtedly Boston's most important player. Even when Garnett catches fire or they lean on Pierce in isolation, when you look at the whole body of 48 minutes, the entire battle of a series, and the extensive length of a season, it's Rondo who acts as the traffic light while every other Celtic is just a car sitting at an intersection.
"[Rondo] has been aggressive, in my opinion throughout this playoffs, this entire run," Doc Rivers said after the game. "And the games that he hasn't been has been the games that we've struggled in."
As he sat on the podium after the game, his personal future surviving as a serious winner despite his team's inability to advance, Sixers point guard Jrue Holiday was asked what was going through his head after his defense forced Rondo into a low percentage shot that will be remembered by Celtics fans for years to come. He shrugged, stared back at the room full of reporters, and said "You're thinking a miss."
It's the obvious answer, right? The great weakness holding back this amazing talent is his shot, right? When reporters asked Rondo to put himself in the shoes of a Sixer as his own fateful shot left his hand, he responded with an answer so curious, so natural to nobody but himself, that as the words hung in the hushed air, people in the room couldn't decide whether or not he was actually serious. "Here we go again," he said, not a smile on his face. He was referring to his hot outside shooting at the end of Game 1, which led Boston to that win as well.
Whether you think of him as confident, delusional, or a brilliant genius, that statement sums up Rondo in a nutshell. That's why he's so great. Maybe figuring him out isn't worth our time. So what if he never puts together the game to game consistency we ache for in our franchise players. When it's all said and done, magnificent nights like this one should force another question into the discussion's forefront: Who cares who Rondo is?
The following two tabs change content below.
Latest posts by Michael Pina (see all)