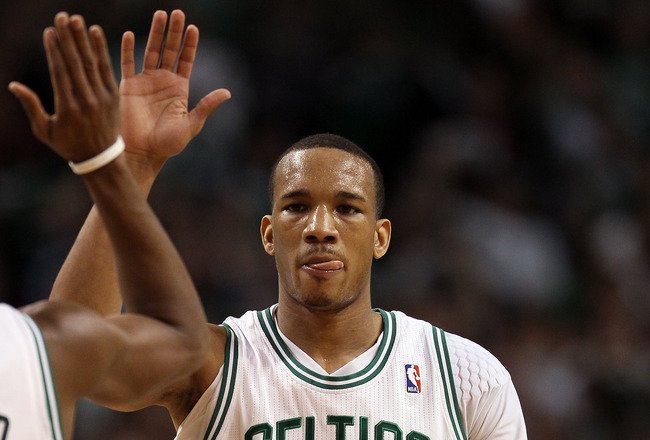 The reasons why Boston leveled Philadelphia last night are innumerable. There was focus from Rajon Rondo, intensity from Paul Pierce, and overall dominance shown by Kevin Garnett. But getting into specifics, one of the biggest weapons they used to make a statement was via their bread and butter: defensive execution. In particular, how they guarded the pick and roll.
From the start, Boston's strategy was a clear adjustment from what they did in Game 2. Here they wanted to trap the pick and roll, bullying the ball out of the hands of Philadelphia's play-makers and towards guys who aren't used to standing 15 feet from the basket with the shot clock winding down and a defender rotating towards their face.
Here are two examples of terrible pick and roll plays defended by the Celtics in Game 2.
In the clip above, Brandon Bass is non-committal with what he wants to do. Is he showing? Is he trapping? Is he an old man trying to send back soup in a deli? No, no, possibly yes.
Here you see Mickael Pietrus fail to hedge (if that's what he was trying to do—similar to Bass, it isn't quite clear) and allow Jrue Holiday to turn the corner and get into the lane.
The adjustments that need to be made in order to correct the problems seen above appear to be simple, but they're far from it. In order to execute a successful trap, complicated rotations must come from the backline, and if the two players up top don't do their job, either terrible mismatches will show themselves all over the court (think multiple mustard stains on a wedding dress), or a wide open player who Boston doesn't want to have the ball can be gifted with a driving lane.
Last night the Sixers executed 18 pick and rolls to create a shot—both from the handler and roll man—according to Synergy. They connected on just five of these attempts. Here's a sequence of well defended pick and roll plays that took place late in the second quarter. They effectively ended the basketball game.
The play begins with Andre Iguodala taking a screen from Spencer Hawes at the top of the three-point line. Instead of showing hard then rotating back to his man, as Garnett tends to do, he stays in front of Iguodala, helping Pierce trap him on the wing. From Iguodala's point of view, the smartest option here is throwing the ball back to a wide open Hawes, who catches it about a foot in front of the three-point line.
This is where Garnett shows why he's such an incredible basketball player. By sliding across the lane to contest what would be a wide open jumper, Garnett forces Philly's center to put the ball on the floor from 20-feet away. When discussing all things disgusting, Spencer Hawes driving to the basket ranks at the top of my list. Bass then rotates from his man to contest the shot, as Ray Allen and Pierce crash the lane, positioning themselves for a possible rebound. The result? Bass makes Hawes wish he never picked up a basketball, and Keyon Dooling goes the other way for a quick layup.
This second play is similar, except Lou Williams is handling the ball instead of Iguodala. Williams receives a screen from Hawes and dribbles right into a trap by Rondo and Garnett. Lost and possibly dazed, Williams throws the ball back to Hawes, who's standing behind the three-point line and wants no part of the action. He quickly swings it to Holiday—also standing behind the three-point line and well covered by Avery Bradley—and the Sixers try a pick and pop on the opposite side of the floor with two different players.
This was Philadelphia's adjustment, but unfortunately for them, things don't go so well. As Holiday comes off the screen, he's greeted by a sagging Pierce, who can't afford to be over aggressive on the play because his man is the much more dangerous Thaddeus Young. (Pierce also doesn't have to trap because Bradley easily gets past Young's screen, making it look as if nothing was ever set.)
Instead of forcing the issue and attacking, Holiday throws it back to a popping Young. The shot clock is now at six, and Young is forced to go one on one with Pierce, driving his body into the teeth of Boston's treacherous defense with predictable results.
The previous two clips show awesome focus and commitment to what it was Doc Rivers wanted his team to do, but this one here is my personal favorite. Holiday takes a screen from Hawes and before Garnett can even come up to trap, the ball is out of his hands, back to Hawes. This is Philly playing right into what the Celtics want. They're up by 10 in the first half, and already their concentration is cracking.
Holiday quickly comes back to get the ball to receive another screen from Hawes, going in the opposite direction, but the Celtics don't seem to care. Garnett and Rondo chase down Holiday until he reluctantly throws the ball back to the always-ignored Hawes. Another jumper is missed, and another transition opportunity for the Celtics is created.
Here's where the mental toll for Philadelphia has reached its breaking point. Lou Williams holds the ball with a little under three seconds separating the shot and game clock. Instead of milking it down to prevent Boston from getting the half's final shot, Elton Brand comes up to set a screen with nine seconds on the shot clock, and 11.5 seconds left in the half. With a head start, Williams tries to blow by Ryan Hollins in an attempt to get to the basket.
Once again, tragedy strikes for the Sixers. Williams misses the layup, Bradley grabs the rebound, and Rondo finds himself with nearly seven seconds to race the length of the court and get a final shot off. We've seen Rondo cover this type of ground in half that time throughout his career, so to nobody's surprise he gets there with more than enough time to spare, and finishes with a nifty reverse layup to give the Celtics an 11 point halftime lead. Beautiful.
Boston lost Game 2 in part because they couldn't impose their will on Philly's ball-handlers. They looked like a confused team, allowing opposing guards to do as they pleased. Last night we saw a different Celtics team; a more focused group that executed their plan to near perfection. This is the team we're more familiar with seeing, and this is the team that needs to show up night in and night out if Boston has any chance at raising their 18th banner.
The following two tabs change content below.
Latest posts by Michael Pina (see all)