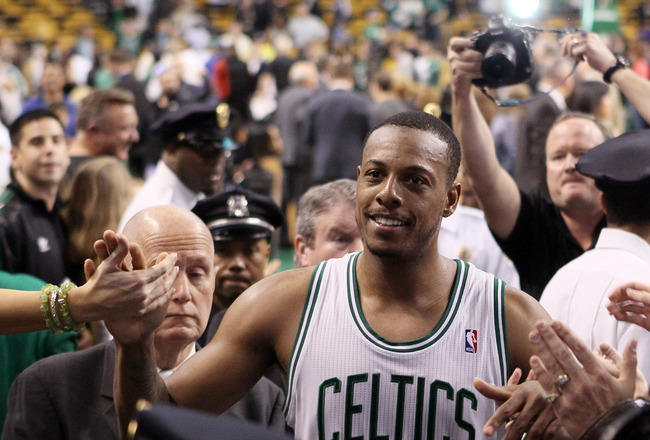 Game 2
Sixers @ Celtics
7:00 PM EST
TNT
TD Garden
Offensive Efficiency:
Boston: 95.4 points per 100 possessions (11th)
Philadelphia: 96.6 points per 100 possessions (10th)
Defensive Efficiency:
Boston: 90.6 points allowed per 100 possessions (1st)
Philadelphia: 92.8 points allowed per 100 possessions (4th)
Probable Sixers Starters: Jrue Holiday (PG), Evan Turner (SG), Andre Iguodala (SF), Elton Brand (PF), Spencer Hawes (C)
View From The Opposing Bench: Philadunkia
Thumbnail: On Saturday night, Boston gave Philadelphia a swift kick in the gut. Tonight we'll see if what follows is a devastating uppercut knocking them down to the mat, or a gentlemanly step back to their own corner to the opponent recover. The Sixers appear to be a team in strategic disarray. Elton Brand believes getting the ball out of Kevin Garnett's hands should be the primary defensive focus, while Doug Collins seems to think the best path for his team to travel is down the one they're currently on, betting that Garnett will tire down as the series goes deeper and deeper.
As I wrote in my recap yesterday morning, the Sixers gave the Celtics their best effort in Game 1 and still lost. Boston expended a ton of effort in the second half to surge back and win the game, and they were rewarded with a relaxing Mother's Day, void of all basketball-related activity. This team is battling aches and pains to significant players who're deep in their careers, and with a proverbial banana peel underneath every other step, it's more important now than ever before that they not only win four games, but lose none until they meet their next, more dangerous opponent in the Eastern Conference Finals.
Prediction: Celtics 83, Sixers 79
The following two tabs change content below.
Latest posts by Michael Pina (see all)