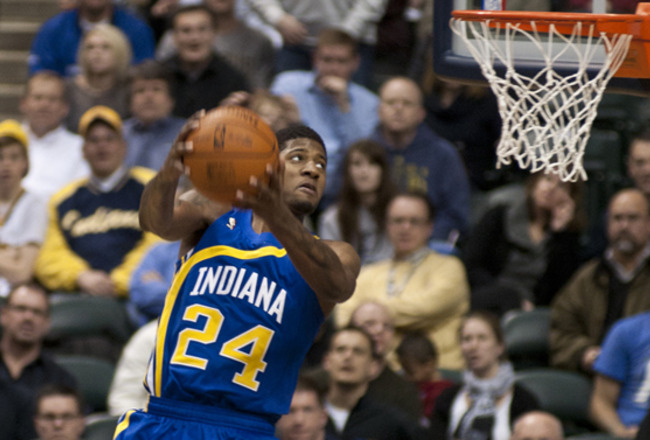 Boston @ Indiana
Bankers Life Fieldhouse
7:00 PM EST
CSNNE
Offensive Efficiency
Boston: 100.5 points/100 possessions (28th)
Indiana: 106.2 points/100 possessions (8th)
Defensive Efficiency
Boston: 98.8 points allowed/100 possessions (2nd)
Indiana: 103.0 points allowed/100 possessions (8th)
Probable Indiana Starters: Darren Collison (PG), Paul George (SG), Danny Granger (SF), David West (PF), Roy Hibbert (C)
Injury Report: Mickael Pietrus, Out (Concussion)
View From The Opposing Bench: 8 points, 9 seconds
Thumbnail: The Indiana Pacers are a strange bunch, not quite among the league's elite, yet their youth, energy, and overwhelming confidence makes them one of the NBA's most competitive teams. If you were to compare each player in their starting five with each player in Boston's starting five, the Celtics would have a distinct advantage at almost every position. But, of course, this isn't how basketball teams are weighed against one another, nor is it how the game is played
Last night Indiana dominated perhaps the league's best team, Oklahoma City. It was a wonderful example of why the Pacers are so unrelenting and dangerous. When Roy Hibbert makes himself a focal point (21 and 12 last night), their offense becomes so versatile and unpredictable that defending it is nearly impossible. Almost everybody on their roster is capable of going off for a 20-point night, and no matter the unit Frank Vogel puts out there, the Pacers are giving 48 minutes of top notch defensive effort.
As was previously mentioned, this is the second night of a home back to back for the Pacers, and an opportune time for the rested and (hopefully) angry Celtics to attack. Rajon Rondo hasn't had much success in the two games he's faced them this year, but after putting up just eight shots in Thursday night's clunker, expect him to be much more aggressive against the undersized Darren Collison. If he's able to enter to the paint at will, it wouldn't be surprising to see Indiana use the longer, more effective Paul George to try and slow him down, but if that happens look for Boston to exploit different mismatches elsewhere on the court.
The Pacers are a good team, but far from a great one. Watching them destroy the league's best team in such a convincing fashion last night made me pause and wonder just how much noise they could make this postseason. But that's just one game. In a playoff series, this team only has so much firepower they can throw, and after already seeing them three times this season, Boston should be well rested, and ready for everything they see.
Prediction: Boston 101 – Indiana 87
The following two tabs change content below.
Latest posts by Michael Pina (see all)