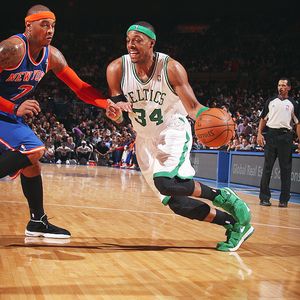 The comparison has been made before.
Incredible offensive skill-sets. Same position. Same height. Same body-type. Similar career paths (or at least until Melo forced his way to New York). And on and on and on.
And now, Paul Pierce and Carmelo Anthony are about to square off in the first round of the NBA playoffs.
Of course, the winner of this matchup will not necessarily win the series. There are too many other factors involved, which CelticsHub will be getting into as we lead up to the game tomorrow night.
But this matchup is still extremely important, especially for the Knicks. If New York is going to pull the upset, Carmelo needs to bring his A game, and probably then some. So let's take a look at this head-to-head matchup and see who we like to come out on top.
SCORING:
The numbers for 2010-11:
Pierce: 18.9 ppg, 55.1% eFG
Anthony: 25.6 ppg, 48.7% eFG
Anthony has been one of the league's best scorers since entering the NBA in 2003. He already has five seasons in which he's averaged 25 points per game, including last year when he put up 28.2. Despite all the distractions, this season hasn't been any different. Carmelo came to New York and immediately became THE GUY. Remember how Amare Stoudemire completely owned New York City back in November? Well there's no doubt that the Knicks are now Carmelo's team.
Anthony's biggest strength on offense is his versatility and his ability to get to the rim. For some reason, I think Melo carries the reputation of being a really good shooter, but in reality the numbers don't support that. His eFG% rate was among the worst for small forwards this season. But Anthony makes up for it by getting to the free throw line 8 times per game. He's developed into a very skilled post-player, and even though he might not have the quickest first-step, his upper-body strength allows him to get to the rim whenever he wants.
Pierce, meanwhile, has had one of the best offensive seasons of his career. The buzz-word with Pierce this season has been "efficient," and for good reason. His eFG% was the highest it's ever been, and he posted his lowest Turnover Rate since 2001.
Ultimately, it's a difficult comparison because the Knicks rely so heavily on Carmelo, and he attempts significantly more shots than Pierce. But while Pierce has been forced to re-invent himself in recent years, Carmelo is still in his prime.
Edge: Anthony
3-POINT SHOOTING:
This season:
Pierce: 37.4% 3-FG, 3.7 attempts per game
Anthony: 37.8% 3-FG, 3.3 attempts per game
I was shocked when I saw that Anthony actually shot a better percentage from 3-point land this season. Pierce must have really dropped off over the last half of the season, because I remember he started the year shooting quite well from beyond the arc. Anthony, on the other hand, has trended in the right direction since joining New York. In 27 games with the Knicks, Anthony is shooting 42% on 4.6 shot attempts per game.
Nevertheless, I'm going with my gut here. Over the course of their entire careers, Pierce is a 37% 3-point shooter, where Anthony is only a 32% shooter. I think those statistics will prove true in the playoffs.
Edge: Pierce
REBOUNDING + PASSING:
Since I watch every game that Pierce plays, it would be easy for me to simply say that his numbers don't truly reflect his contributions in these categories. Pierce does have a knack for coming up with big rebounding numbers in important games, and we all know how effectively Pierce is able to beat his man, draw the second defender, and make the appropriate pass. But my hunch is that Carmelo does these things well, too. So let's look at the numbers:
Pierce: 5.4 rebounds per game, 3.3 assists
Anthony: 7.3 rebounds per game, 2.9 assists
At the end of the day, though, the Celtics aren't game-planning for how to keep Carmelo off the boards. And the Knicks aren't worried about Pierce running up the assist numbers, either.
Edge: Even
DEFENSE:
Pierce was labeled as a "lazy defender" in his early years, but that all changed with the arrival of Kevin Garnett in 2007. Pierce made a decision to fully commit himself on the defensive end of the floor, and turned himself into a very solid one-on-one defender. Now a few years older, Pierce has lost a little bit of his quickness, but not too much. We've seen in the past how Pierce welcomes the opportunity to guard a player like LeBron James throughout a grueling playoff series. The upcoming matchup with Carmelo should bring out that exact same intensity.
Anthony, however, has yet to dedicate himself to becoming a reliable defensive player. With essentially the same body-type as Pierce, there's no reason that Anthony can't transform himself into an above-average defender. In my opinion, defense is 90% effort and willingness to work. In Pierce's case, while not excusable, you can understand why he didn't develop the best work ethic throughout parts of his career. Pierce played on some really bad teams and didn't have an All-Star veteran player to teach him any better. For Anthony, there's really no excuse. He has been on very good teams his entire career, playing with strong defensive guys like Chauncey Billups, Kenyon Martin and Marcus Camby. But hey, he never had Mike D'Antoni on the sideline before, so maybe this is the start of a new beginning.
Edge: Pierce
PREDICTION:
I think Pierce will "win" this matchup because the Celtics will win the series. Carmelo will probably average like 32 points per game, with Pierce somewhere around 22 points. But Pierce will do everything else right, be a leader, and come up big for his team when they need him. Ultimately, a few of these games may come down to the last shot. Carmelo was the big winner of Henry Abbott's TrueHoop article on crunch-time offense , as we learned Anthony is statistically the NBA's best clutch shooter. At the same time, though, I've seen Paul Pierce make his fair share of crunch-time shots. This series might be decided by who wins in this category.
The following two tabs change content below.
Latest posts by Michael Salvucci (see all)