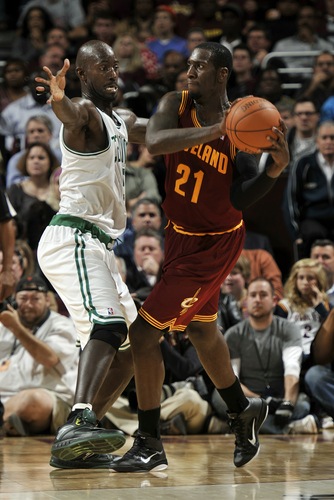 UPDATE:
Kendrick Perkins will make his return to the Celtics lineup tonight.
Per Chris Forsberg, ESPN Boston.
Cleveland at Boston
TD Garden
7:30 PM ET
CSN
Offensive Efficiency:
Cleveland: 97.0 points/100 possessions (30th)
Boston: 106.5 points/100 possessions (9th)
Defensive Efficiency:
Cleveland: 108.9 points allowed/100 possessions (28th)
Boston: 98.3 points allowed/100 possessions (2nd)
Cleveland's probable starters: Ramon Sessions, Daniel Gibson, Christian Eyenga, J.J. Hickson, Antawn Jamison
View from opposing bench: Cavs: The Blog
Thumbnail:
Big game for Dan Gilbert's Cavs tonight. Not only does a loss get his team one step closer to the #1 overall draft pick, but it prevents the Miami Heat from inching any closer to the top-seed in the East. So there's a lot on the line.
This season, the Celtics and Cavs have split two games at Quicken Loans Arena. We all remember the C's disappointing loss to Cleveland back in October. But in retrospect, it appears the Cavs were simply running on adrenaline from all the LeBron-hoopla. Because after starting the season 7-9, the Cavs have gone 1-27 and are currently riding a 17-game losing streak. Wow, I sure don't miss those days.
As for the Celtics, Saturday's loss to Washington should serve as a reminder that ANYTHING IS POSSIBLE in the NBA. Shaqulle O'Neal will not be able to play tonight, so it's up to Semih Erden and Glen Davis to fill the void.
WHAT THE CAVS DO WELL:
Honestly, what am I supposed to write here? I guess the Cavs hit the defensive boards pretty well (5th in Defensive Rebound Rate). I guess.
WHAT THE CAVS DO POORLY:
Obviously a lot of things, but here's one thing to keep your eye on tonight. Cleveland allows opponents to shoot more 3-pointers than any other team in the league. Of course, this statistic makes sense when you consider that Cavs' opponents are shooting a ridiculous 42% from downtown (worst O3P% in the NBA).  The Celtics have been a deadly 3-point shooting team all season, but Boston also doesn't shoot that many 3's either. So while I'm hoping the Celtics don't get away from their offense and start launching 3's left and right, we could be in for some fireworks tonight.
PLAYERS WHO MAKE ME WORRY:
Manny Harris: I'm actually 0.00% worried about him, but I'm a little bit excited to watch him play tonight. The rookie guard from Michigan scored 27 points against Phoenix a few weeks ago, and he's been one of the few bright spots for Cleveland over the course of this 17-game losing streak.
PLAYERS WHO DON"T MAKE ME WORRY:
J.J. Hickson: You can count me as one of those people who thought Hickson was the real deal. But now…I'm not so sure. So far this season, Hickson has managed only 11.1 ppg and 6.4 rebounds on a team where he is arguably the top offensive target (never thought I'd write that last sentence). Since Anderson Varejao's injury a few weeks ago, Hickson has been playing better, averaging a 13-10 during the month of January. However, if you think Hickson ultimately has the potential to be a borderline All-Star, he needs to prove himself throughout the rest of the season. It's one thing to put up big numbers on a bad team (i.e: Zach Randolph), it's a whole different story if you can't even put up those numbers in the first place.
WHAT WE WANT TO SEE FROM BOSTON TONIGHT:
Typically, I'm not one of those people who gets upset because the Celtics only beat the Pistons by 4 points instead of 20. It's the NBA. There are plenty of good players, and a win is a win. Tonight, however, I am making an exception. Not only do I expect the starters to blow this game out by halftime, but I expect the bench guys to keep their foot on the gas right through the end of the game. Just seems like a good way to put that Washington loss completely behind them.
Prediction: Celtics 112, Cavs 89
The following two tabs change content below.
Latest posts by Michael Salvucci (see all)